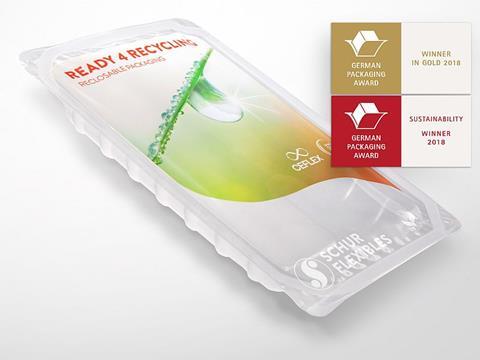 In April 2018, Schur Flexibles Group acquired Uni Packaging UK, allowing it to further offer flexible packaging solutions for a wide range of clients´ product portfolios.
The Schur Flexibles Group has already developed a pioneering sustainability strategy under the guiding principle of "rethink" and will welcome visitors at Packaging Innovations in Birmingham from February 27th-28th, stand D40, to share their ideas and information on new packaging regulations while presenting their innovative sustainable packaging solutions.
Schur Flexibles´ five pillars of sustainabilityThe implementation of the sustainability strategy follows Schur Flexibles' recently developed 5R programme based on five pillars: responsibility, recycling, replace, reduction and renewal:
• Responsibility: Schur Flexibles takes full responsibility for itself and its products. The company has implemented a wide range of measures to support sustainability within the Group and its sphere of activities.
• Recycling: Schur Flexibles aims to maximise the recycling of reusable materials in order to reduce the use of new materials e.g. with the award winning FlexiClose(re) based on polyolefines or BarrierTop(re) based on PET.
• Replace: Packaging solutions that are not optimal from a sustainability point of view will be replaced by more sustainable alternatives, one of the options are the Standup Pouches.
• Reduction: The amount of materials used will be reduced as much as possible to save resources. The range of innovative and high performing products includes the VACUshrink FM40 film and BarrierTop X 35 which are amongst the thinnest on the market.
• Renewal: Wherever possible, alternative packaging materials made wholly or in part from renewable materials such as paper, fibre, or plastic films from renewable raw materials will be used, e.g. DanaFibre.
The packaging solutions developed as a part of Schur Flexibles' 5R approach and "design for recycling" concept, are all marked accordingly with the "rethink" logo to highlight the range of sustainable products. The most important prerequisite for the market launch of all sustainable packaging materials is that they fulfil the highest levels of product safety and functionality.
Sustainable packaging enhances point-of-sale advantages
Utilising the modern, flexible and resource-saving packaging solutions offered by Schur Flexibles not only protects the environment but also ensures a competitive advantage at the point of sale. Sustainability is a criterion that increasingly influences consumers when they decide whether to buy a product or not. Therefore, the ability to advertise products by highlighting the sustainability of their packaging leads to significant market advantages.
A strong partnership to serve customers best With the acquisition of UNI Packaging UK, the Schur Flexibles Group has expanded their already comprehensive portfolio of flexible packaging solutions, now covering the entire value chain: extrusion technologies, including modern Waterquench coextrusion, laminating and coating with or without solvents, printing in all standard printing technologies for flexible packaging including digital printing and converting with modern and convenient extras such as laser perforation. This one stop shop concept with production sites and sales contacts all across Europe is completed by services that go beyond the daily business, such as those offered by the PackScience Center - a combination of a modern pilot plant with expert support and a comprehensive choice of seminars. Here customers receive the relevant technical support to ensure a smoothly running packaging process of their production lines with new packaging solutions.