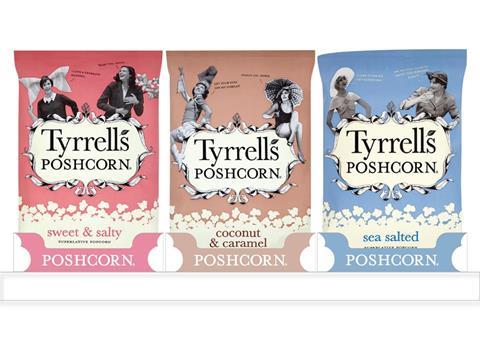 SAICA Pack has completed a total rebrand of Tyrrells shelf ready packaging for its range of Poshcorn popcorn.
The rebrand encompasses the entire portfolio of the Poshcorn range, including its six, eight, 12 and 24 pack versions, perfectly reflecting the premium quality of the product itself.
Poshcorn is positioned as a premium alternative to competitor brands in the ready-to-eat popcorn category and with SAICA's help, now have a range of SRP cases that mirror the up-market pack design.
SAICA Pack's Creative team at the National Development Centre created a design that used one colour printing that not only reflects the Poshcorn branding but also meant that the customer incurred no extra cost.
SAICA aligned the branding across all case configurations and Tyrrells were able to successfully roll the design out across the Poshcorn range. The new design led to a complete new range of cases for Poshcorn products.
The result is SRP packaging that is brighter, more visible and appealing to both warehouse staff restocking shelves and most importantly the consumer purchasing the product.
A spokesperson for Tyrrells, said:
"Tyrrells Poshcorn is a premium anchor within the busy snacking fixture. SAICA's design team have helped to bring SRP design up to the premium look and feel of the packs, delivering more stand out on shelf".
Jamie Bingham, SAICA Creative, said:
"We are really pleased with the result of this project. SAICA Creative working in collaboration with Tyrrells brand managers have really helped to make a vast improvement to the on-shelf appearance and shelf shout for the Poshcorn brand."
More info: