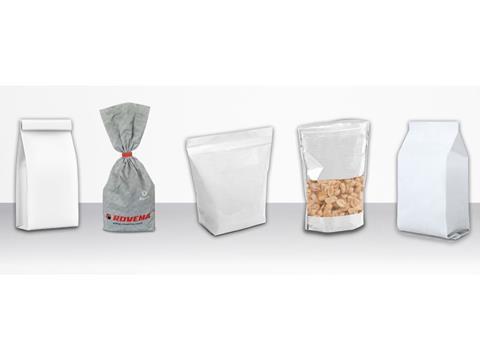 Finding broken biscuits, crumbs or residue in their packs is frustrating for consumers. With ROVEMA's SBS system, it's possible to reduce these during the packaging process and present them in their best light at the point of sale.
Special layer patterns for stacked products and customer-specific product orientations in the bag can be flexibly implemented. Pre-packed products and loose goods can both be packed.
Watch this video to see an example of stacking baked goods and the gentle product feed.
The system allows the packaging from flat film web and the switch between different bag shapes and packaging materials. It allows to replace pre-made pouches and pack even low fill weights with stand-up pouches made of modern plastic or paper packaging materials.
Case studies: SBS solution for wafer cubes, pancakes and chocolate
One of ROVEMA's customers asked for thick film bags of over 90 microns to package fragile wafer cubes and wanted the bag to stand perfectly on the table even when empty or half empty.

ROVEMA proposed its SBS solution for fragile products. Often, bags are just folded at the bottom, but with the SBS, it is sealed, which allows the bag to stand on the table like a carton. Furthermore, a corner creasing application allows creating a perfectly square bag. The customer wanted a minimum of 70 bags per minute, and the limit for tubes is around 40 to 45 bags per minute. With a twin machine, a rate of 80 bags per minute was achieved. The gentle filling was achieved with a multi-head and a gentle slope. For the bag top, ROVEMA offers a range of options for closing, such as one fold, two folds with or without a label or a clip.
The same result can be achieved when paper-based films, aluminium or OPP-based films are used.
From carton to paper
Another customer wanted to package pancakes and asked for a Stabilo bag with a four-corner seal in a 40 micron OPP film. ROVEMA worked with the company to determine the optimum solution, which was to stack the pancakes.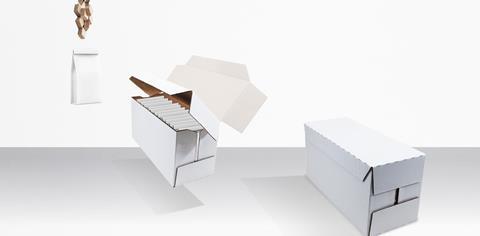 ROVEMA's solution allows the replacement cartons in some applications. While products can be easily stacked in a carton, the same result can be achieved using ROVEMA's SBS solution and paper-based bags, which are a lot more lightweight.
High speed, small footprint
Secondary packaging for fragile chocolates can be equally challenging. A customer asked for clip bags and requested a doubling of speed on almost the same footprint - from 40 bags per minute to 80 bags per minute. ROVEMA proposed the SBS with two tubes, and one clipping machine capable of doing 80 clips per minute. This solution can help save valuable factory space.
Want to find out more? Sign up for ROVEMA's webinar on February 2nd, 2022 (live and available on-demand afterwards).

This content was sponsored by ROVEMA.