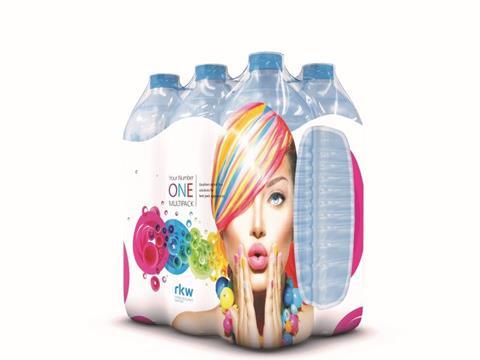 RKW presents its latest generation of multipack packaging solutions at this year's drinktec, the beverage and liquid food industry's global tradeshow in Munich.
The attractive and easy-to-use fine shrink films are perfect for the bundling of primary beverage packaging with product protection, stronger conversion rates at the point of sale and easy handling in the forefront. Because multipacks play an increasingly important role as brand ambassadors and sales instruments, in recent years RKW has invested millions of Euros in advanced extrusion and printing lines both in Germany and abroad. RKW presents its solutions for the beverage industry in hall B4, booth 301.
RKW continually invests in the most advanced technologies to satisfy the demand for thinner and stronger films as well as extraordinary brilliant printing quality. This year, a 10-colour flexo printing machine was installed at the RKW Site Echte. "We not only increased capacities but also further optimized the quality of our films" says Oliver Dirmeier, Vice President Sales, Marketing und R&D Division Packaging.
"The new shrink films require that fewer compromises are made regarding their mechanical and visual properties. This leads to an overall improvement in the appearance of the packaging. RKW can now offer better performance at the same film thickness or a thinner film with the same performance. Furthermore, the 10-colour printing facilities offer greater design flexibility and it is now possible that more Pantone colors can be processed directly instead of achieving the desired results by mixing process colors. Thus, brand owners need to make less compromises on their defined brand and its accompanying advertising campaign". Dirmeier adds, "With both additional printing lines, packaging can be customized with special colors and finishes".
These new production capacities allow RKW to serve an evolving market with its innovative multipack collation shrink film solutions that ensure high profile pack appearance and conversion rates.
RKW can look back on 30 years of experience in the development and production of fine shrink films. RKW's customers not only benefit from the most advanced technologies but also from the company's extensive expertise: Together with customers, our proven experts can help develop the best brand packaging possible. Moreover, RKW offers comprehensive technical support: Together with bottlers, they assist technicians in stabilizing packaging processes and further optimizing the packaging with intensive on-site personnel training.
In addition, RKW is the leading manufacturer of technical films and innovative solutions in the industrial packaging sector. These include FFS films, converted sacks and transport protection films.
More info: