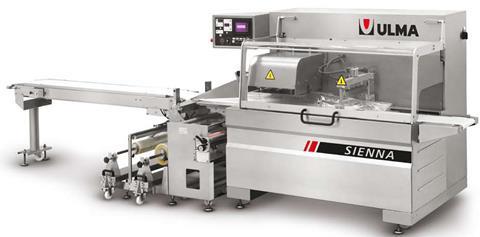 One of the largest suppliers of soft and stone fruits in the UK, Mockbeggar Ltd, has seen a marked increase in productivity at its farm pack house in Rochester, after installing a Sienna Horizontal Flowrapper from ULMA Packaging.
Mockbeggar's growers produce around 435 tonnes of rhubarb per annum which is now being packed by ULMA's Sienna flowrapper at a rate of up to 3,500 packs a day during the peak season in March and April.
Joao Estanqueiro Le, Mockbeggar's Pack House Manager, says the packaging process of the fruit, which can come in random lengths, has been transformed since the Sienna was installed. What used to take a whole day of manual labour is now ready for shipping to Mockbeggar's customers, which include many of the major high street stores, in half that time.
He added: "We did compare suppliers but knew of ULMA and went to see their machines in action. We liked the robust construction and ease of operation. The equipment has made a huge difference to our productivity and their after-sales service is also excellent. We would go to ULMA again if in the market for packaging machinery and I would recommend them to other companies."
The Sienna is available in both flowrap and shrink wrap versions for loose, irregular shaped products in polypropylene or polyolefin films. It has a touch screen operation with multi-product memory which means that changeovers can be made quickly and simply at the press of a button. The machine also benefits from 'no product - no bag' and 'misplaced product detection' systems, as well as working with clear and printed film.
In addition to the Sienna ULMA, part of a global co-operative, has a range of high quality equipment for packaging fruit and vegetables, including the TSA 680 P and TSA 875 P automatic tray sealers specifically developed for the fresh produce industry. The company also has new vertical form fill and seal (VFFS) technology in the pipeline – watch this space!
With increasing demand for British grown produce, versatile packaging technology, like ULMA's Sienna flowrapper, is needed for reducing the need for manual labour by packing a variety of product sizes in the shortest possible time.
Retailers are demanding that suppliers in the fresh produce industry not only have packaging systems in place that protect the integrity of goods and offer excellent presentation, but can also accelerate the process of getting them to stores as well as prolong shelf life, which is what ULMA has been able to deliver.
ULMA is a major provider of flow wrapping equipment and complete automated lines for a wide variety of food sectors from herbs, vegetables and fruit to bread rolls, cereal bars, biscuits, cakes, morning goods and snacks. It offers product handling and grouping to packaging, cartoning, boxing and crating, whether for small or medium-sized operations, or high volume production levels.
Innovative packaging technology – backed up by ULMA's complete spares and service support –- offers fresh produce suppliers a choice of equipment that is highly productive and efficient to meet the growing demand from retailers for speed to market.
More info: