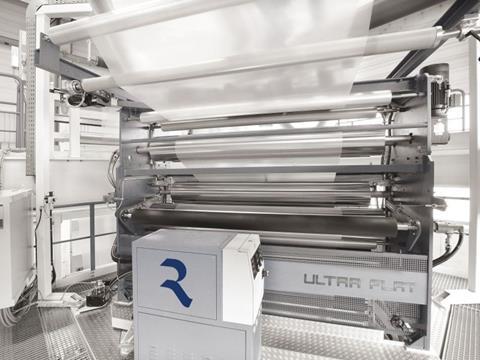 In the past, blown film producers were struggling over many years with wave phenomena and surfaces not perfectly plane. Especially stiffer films containing HDPE or PP are affected by these problems which frequently also occur in the production of barrier films. Reifenhäuser Blown Film offers the right solution with their EVOLUTION Ultra Flat haul-off. This novel system allows to produce films of considerably improved flatness and ensures better printability and lamination capability.
But what makes EVO Ultra Flat so special? The secret of the new optimized film flattening system is mainly its position within the process. While in the past flattening systems were arranged just in front of the winder, EVO Ultra Flat is installed exactly at the point where optimum processing conditions are available for flattening the web, that means upstream between the haul-off nip roll assembly and turner bar system. This arrangement offers the following advantages: At this stage of the process the film has still a temperature of over 50°C and is thus not fully crystallized. Stretching of the film is not only much easier while it is still flexible, but also more energy efficient than all other commonly available systems used at the end of the process.
Further benefits are low investment costs and high functionality and flexibility: Four heating-cooling rolls and two nip rolls designed for independent speed and temperature control allow producers to obtain the desired flattening effect. In this way, it is possible to obtain optimum results with different raw materials and film thicknesses. In addition, sagging of the web can be reduced by a targeted control of the rolls.
The result: Flatness of lamination and barrier films can be improved by up to 40 per cent while sagging of the web can be reduced by up to 90 per cent. In subsequent conversion processes the films can be more easily laminated, printed and converted into packaging products.
Reifenhäuser technology meanwhile is well established in the market to an extent that about 70 per cent of all relevant new Reifenhäuser lines are equipped with EVO Ultra Flat. Film producers who convert their own films recognized the huge benefit of this technology very early and don't want to do without it. EVOLUTION Ultra Flat is well-established in the market due to excellent web flatness properties in the production of lamination film.
More info: