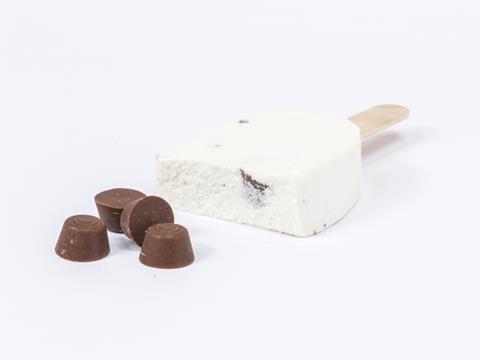 Elsebeth Baungaard, product and concept manager, Tetra Pak, discusses ice cream market drivers behind the development of the new Extrusion Wheel, which produces stick ice cream products with large chunks of additional ingredients at highest capacity on the market.The ice cream market is forecast to grow at a compound annual growth rate of 3.8% in value, and 2.2% in volume between 2017 and 2022. A key driver? A growing demand for premium single-serve ice cream products with new flavours and recipes. Our customers must increasingly create high-quality products that use ingredients in new and interesting ways, while also being prepared to change product portfolios at a moment's notice. The inclusion of whole nuts, real fruit segments, or cookie dough chunks in ice cream is becoming the norm – despite the challenges associated with producing them at scale.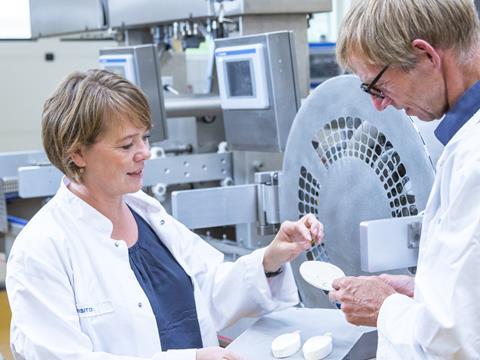 To keep up, the technology behind modern day ice cream production must therefore be highly adaptable, efficient and robust. The journey to designing the new Tetra Pak® Extrusion Wheel, which uses an innovative vertical rotating design to produce up to 12,000 products per hour per lane – double the capacity of what is currently available – was by no means straightforward. This article will explain the market drivers that informed the process from inception and technical research that went into creating this innovative new machine.
Market listening
During our market research phase, it quickly became clear that producers of all sizes lacked a fully efficient method for producing high-quality ice cream stick products with large inclusions. In response, we created the following list of requirements that a new machine would need to meet:
Attractive product appearance – well-defined corners and flat, smooth surfaces without holes or protruding inclusions to ensure correct chocolate dipping
Food safety guarantee – correct placement of the stick in the centre of the product with no risk of damage to the stick
Ability to add all types of commonly used inclusions – soft, medium and hard with flexibility to go up to 25 mm. Soft inclusions to include pieces of fruit such as mango, strawberry or pineapple. Medium inclusions to include cookie dough, raisins and brownies. Hard inclusions to include hole hazelnuts or almonds, caramel chunks, large chocolate pieces or spherical candies
Even distribution of the inclusions in the ice cream product to optimise mouthfeel and overall consumer experience
Correct and consistent positioning of the ice cream products on the stainless-steel trays of the extrusion line – to minimise waste at the subsequent pick-up of the products
No use of nitrogen or other materials – to reduce production costs and environmental impact
Production capacity equal to that of traditional extruded stick products – typically 150 to 200 products per lane per minute
Firmly establishing these requirements ensured we were embarking on the creation of machinery that would meet customer needs and offer an adaptable, future-proof solution.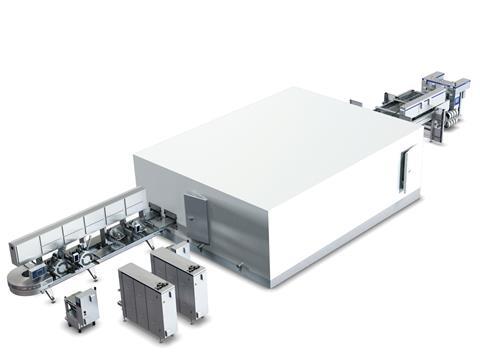 Design and development
After establishing the machine requirements, Tetra Pak initiated a technology development project. This was led by a team comprised of both ice cream specialists from Tetra Pak's ice cream Product Development Centre (PDC) in Aarhus, Denmark and technology specialists from the processing research & development team in Lund, Sweden.
A whole variety of ideas were explored and screened during the first phase of the project, before three concepts were selected for further evaluation, including:
Ultrasonic cutting – an interesting method often used for cutting sticky products such as ice cream, as well cheese and cakes products. Tests showed that it was possible to cut not only the ice cream but also the inclusions in the ice cream. However, the pressure required to cut inclusions such as hazelnuts was too high – negatively affecting distribution of inclusions within the ice cream
Inclusion-free zone – a coextruded process involving two streams of ice cream – one with inclusions and one without. By moving a piston, it was possible to create an inclusion-free zone. The concept was tested by using computational fluid dynamics (CFD) simulation, which showed that only about half of the ice cream could contain large inclusions – thereby discounting it from our consideration
Vertical rotating wheel – a concept explored using a series of individual tests. The vertical rotating wheel is a wheel with a horizontal axis, using a number of cavities at its outer surface with the same shape as the final product (see image below). The concept involves the following steps:
Insertion of the stick into a slot in the cavity
Filling the cavity with ice cream with large inclusions
Pushing the ice cream uot of the cavity with a piston
Positioning the product on the stainless-steel tray of the extrusion line, then releasing it from the piston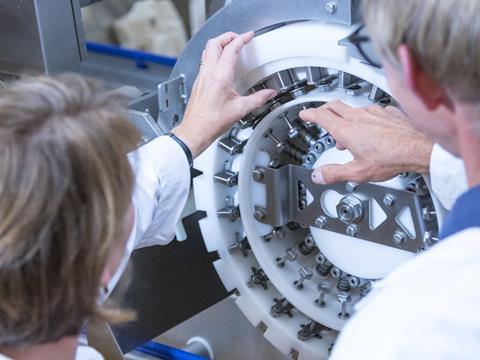 Compared with the other concepts, the vertical rotating wheel solved the issue of precisely positioning the products on the stainless-steel trays due to the close proximity of the extrusion wheel to the line, and therefore releasing the ice cream product gently onto the steel trays of the line.
After the vertical rotating wheel concept and prototype was proven, the next step was to design and build the equipment suitable for continuous daily production. This included additional requirements for production equipment addressing hygiene and cleanability, operator safety and user-friendliness. One particularly important addition was the integrated washing system for easy cleaning: a quick-change system inspired by pit stop techniques in Formula 1 racing, which enables changing the wheel and other product-dependent sizing parts in less than three minutes.
As the market for premium-quality stick ice cream products rapidly expands, addressing the limitations of extrusion-line technology offers ice cream producers a competitive advantage. Achieving such an advantage requires thorough research and testing by expert teams – as evidenced by our journey to create our latest extrusion wheel. At Tetra Pak, we relish the challenge of pushing the boundaries of what is possible with our customers, helping them to succeed in a category that is as dynamic and exciting as ever.
Click below to view Tetra Pak's video of the Extrusion Wheel: