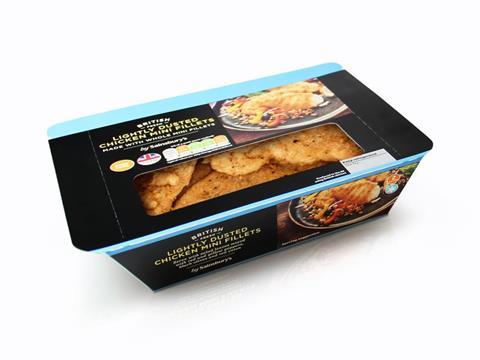 RAP, a manufacturer of food-to-go packaging, has developed the world's first Modified Atmosphere (MA) RapTray which offers an alternative to full plastic trays and reduces plastic use by 85%.
In addition, it's the world's first hermetically sealed carton food tray which means it removes virtually all oxygen from inside the tray, extending product shelf life and maintaining food freshness.
The MA RapTray developed with Proseal engineering inline GT Series was designed for Moy Park - a poultry meat producer in England and Northern Ireland - and the packaging is being used in Sainsbury's supermarket stores.
The packaging is suitable for a wide range of chilled meals and salads, and it's constructed from lightweight board and laminate film, making it 20% lighter than standard equivalents.
Moy Park, is one of the largest chicken processors in the UK.
The company is using RAP's MA RapTray for its "Lightly Dusted Chicken Mini Fillets" and "Oat + Seed Mini Chicken Fillets".
Graham Williams, CEO at RAP, said: "Our partnership with Moy Park has enabled us to make a huge impact in the food packaging industry by introducing the sector's first hermetically sealed carton food tray.
"In addition, it is part of our 'Removing Avoidable Plastics' movement, which responds directly to the global plastic pollution problem, as it has 85% less plastic that other alternatives available in the market."
Julian Money, founder of RAP, added: "The plastic waste phenomenon is something that today's food manufacturing businesses cannot afford to ignore, and we're actively working to reduce the amount of plastic that enters supply chains.
"We see this activity as something that will make a lasting, positive impact for our environments and future generations. It's an exciting time at RAP."
More info: