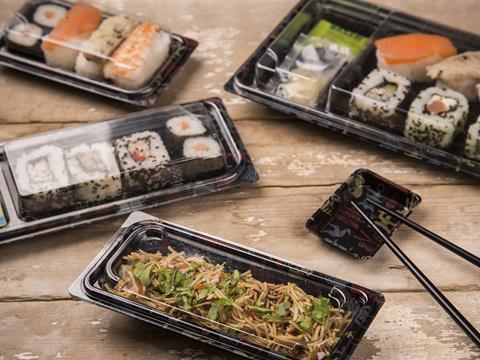 Flexible packaging has grown spectacularly over recent years, breaking into new markets and increasing its share of the overall packaging market. However, Dr Helene Roberts, marketing and innovation director at LINPAC, argued that the qualities of rigid packaging are unrivalled.
"While flexible packaging has a valid place in the supply chain, the protective and preservative qualities of rigid plastic packaging continue to be second to none," Dr Roberts told Tim Sykes. "Vulnerable soft fruits and delicate baked goods, for example, can move through from packer to retailer without damage and arrive in the home of the consumer looking just as good as they did on the day of packing."
A universal challenge for flexible and rigid packaging manufacturers is to develop pack solutions that address both protection and presentation requirements, whilst minimising environmental impact. In Dr Roberts' view, "Rigid plastic packaging is a cost-effective, resource-efficient and sustainable solution that directly addresses the issue of escalating food waste, which is a global environmental concern. In particular, crystal clear rPET continues to be the ideal rigid, lightweight and fully recyclable material to meet this need."
In today's marketplace the onus is on rigid packaging converters to look for growth by identifying new value adding qualities. According to Dr Roberts, rPET is a material that should be of interest to brand owners.
"Highly versatile, rigid rPET can be moulded, cast and blown into a range of packaging formats," she remarked. "Interestingly, this level of structural flexibility allows for continual innovation to meet market demand. For example, the addition of compartmental portion control features in the recent LINPAC chicken split pack project with Tesco and Cargill allows the consumer to 'eat one and keep one'. A perforation enables the rigid pack to be snapped in half, leaving the remaining segment sealed to extend its shelf life and avoid wastage."
Introducing compartmental design to prevent waste is utilised in a completely different way for the convenience sector with the LINPAC and Leroy Seafood pack for Mercadona. A chopstick compartment has been introduced into rigid plastic sushi packs for quick and easy on-the-go consumption. The consumer has the ability to purchase and eat the sushi then discard the pack for recycling within minutes.
Of further significance is the ability of rigid plastic rPET to create a closed-loop recycling process. "rPET packs can be recycled alongside standard drinks bottle waste," concluded Dr Roberts. "Once supercleaned in house at LINPAC to ensure food safety, up to 95 per cent of the resulting recyclate can be used to manufacture new packs, which can then re-enter the cycle post-consumer."