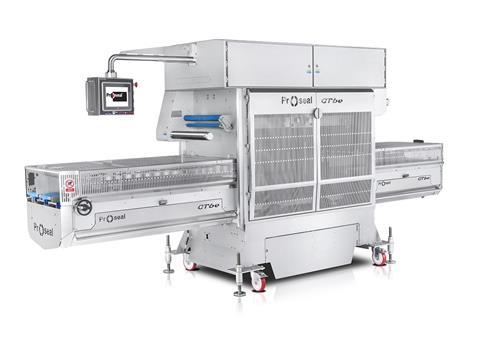 A new top-of-the-range high speed tray sealer, the GT6ex Twin – capable of sealing up to 100 vacuum sealed packs per minute – will be one of the highlights of the Proseal America booth (S-7622/S-7627) at this year's Pack Expo exhibition in Las Vegas.
The 156 m2 booth will also showcase the entire Proseal GTe tray sealer range. The seven models on display include both semi- and fully automatic machines, providing an extensive choice of solutions that can meet the needs of a wide variety of food packing requirements.
Proseal's innovative 'e' technology enables food manufacturers to offer every major type of tray sealing format, including atmospheric seal, MAP (Gas Flush), Vacuum MAP, Skin, Skin Plus and Skin Deep, on the same machine. Importantly these different tray sealing technologies can be added or removed at any time, enabling customers to future-proof their investment by giving them the flexibility to change pack formats in line with customer demands and market trends without having to purchase new equipment.
The machines will also demonstrate a number of Proseal technical innovations that help to maximize their performance. Pro-Motion speeds up the infeed of trays to the sealer, using following motion and intelligent buffering technology to enable the trays to feed in continuously. An auto-detect product flow monitoring system regulates the speed of the infeed conveyor according the amount of trays being supplied.
Pro-Tect is an advanced contactless user login that provides each authorized operator of the machine with his or her own access. The system also keeps a log of information inputted for full traceability.
E-seal® is an energy-efficient high force electric heat seal system that delivers a precision seal with an increased sealing force of 600%, ensuring every seal has the tightness and reliability to meet the stringent quality requirements of the retail sector. At the same time, the machine only consumes 8% of the air of a machine fitted with an equivalent standard pneumatic cylinder, dramatically reducing the air consumption normally associated with high speed tray sealing machinery. This technology also improves seal strength, machine productivity and the MAP process through ensuring accurate gas flush positioning, which can also reduce gas flush cycle times.
I-Film monitors film diameter to enhance high-speed online printing; and Hot-Rod, which has been specially-developed for the sealing of Smooth Wall foil trays, is a long-lasting water-resistant seal tool heating element that reduces energy consumption.
All Proseal machines are constructed to food industry approved hygiene standards with full wash-down protection. The company's established 'Auto Tool' connection system enables tool changes to be carried out in around five minutes, while downtime is further minimized by the use of quick-change conveyor belts, and an auto-lock film reel holder.
Representative from Proseal's global network – including the UK, Netherlands, Germany, Spain, Turkey, Thailand, Malaysia, Singapore, China, Chile and Australia – will also be on the booth to offer localized knowledge and experience of their specific territories.
More info: