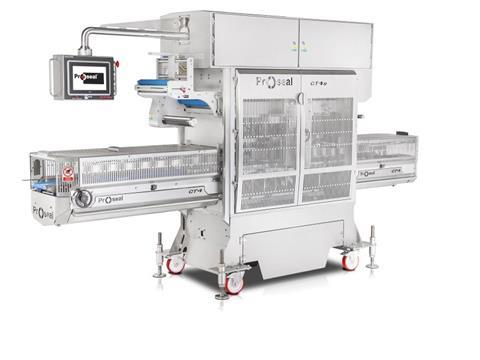 The ability of tray sealing specialist Proseal to meet all food manufacturers' demands with a wide range of high-quality, efficient tray sealing machines will again be underlined at Anuga FoodTec 2018, where the company is set to display its pioneering electric heat seal technology.
On stand A079 in hall 09.1 will be the Proseal GT4s tray sealer, capable of sealing speeds of up to 210 packs per minute with an 8-impression tool. The GT4s is ideal for many different applications, including fresh fruit, meat and poultry, and ready meals, while its compact dimensions mean it can fit easily into production lines with restricted space.
The GT4s incorporates several proven Proseal-developed features that help to maximise performance, reliability and efficiency. The company's pioneering E-seal® technology ensures excellent seal reliability to meet the stringent quality requirements of the food retail sector. It provides an increased seal force of 600% while achieving a 92% reduction in energy usage to deliver valuable cost savings and sustainability benefits.
In addition, ProMotion, which increases throughput with following motion and intelligent buffering technology, enables trays to feed continuously into the sealer without stopping, helping to improve speeds by up to 30%.
The GT4s will be joined by the new Proseal TTe, a small, compact, and robust tray sealer ideal for low-volume production and production trials that also incorporates E-seal® technology. Capable of sealing up to eight skin packs per minute on a 2-impression tool, the TTe is designed for customers that frequently switch between pack types, and require a tray sealing machine that is of very small footprint, yet compatible with all rigid packaging styles on the market, from gas flush to skin applications.
Both machines underline the outstanding flexibility, powered by technological innovation, of the Proseal range. A further example of this is the company's Quick Release (QR) Cartridge Tool, which enables any tool to be quickly and easily removed and replaced in the event of a problem. All the elements that might need attention are contained within the cartridge, meaning repairs and adjustments can be carried out offline while the tray sealer continues to operate, thus ensuring that downtime is minimised and overall throughput maintained.
The QR Cartridge Tool joins Proseal's existing QR Conveyor, which features a modular design that allows individual sections of the infeed and outfeed conveyors to be removed for maintenance and cleaning.
More info: