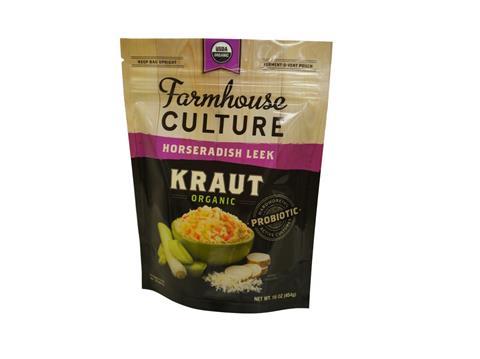 The World Packaging Organisation has recognised ProAmpac for developing a stand-up, flexible food pouch with a special de-gassing valve that keeps live probiotic microorganisms "happy" on their way to consumers.
The WPO's 2017 WorldStar food-category award was given to ProAmpac, one of the fastest growing companies in flexible packaging, for the sauerkraut stand up pouch design created for Farmhouse Culture Inc., a maker of organic, probiotic-rich foods and beverages.
The WPO award acknowledges ProAmpac's design for enhanced functionality made possible by its press-to-close zipper, its clean, easy opening facilitated by laser scoring, crisp graphics that reinforce product freshness, and a well-placed back window for product viewing.
According to Marc McCullagh, Farmhouse Culture's director of marketing, "Farmhouse Culture is proud to be an innovator within fermented foods and it is very exciting to now be recognised for our packaging innovation as well. Our stand-up pouch and its Ferment-o-vent™ helps ensure that our krauts and the live active probiotics from our fermentation process remain happy and tasting amazing! ProAmpac has been a great partner with Farmhouse Culture to ensure consistent quality in not only structure, but also outstanding print production to match our brand style and packaging design."
WPO's WorldStar award "is a victory for both companies and ProAmpac is proud to be recognised by the World Packaging Organization for our design," said Adam Grose, ProAmpac's chief commercial officer. "Our technical team collaborated with Farmhouse Culture in meeting the growing consumer demands of probiotic foods that promote health."
The World Packaging Organisation, a non-profit international federation of packaging institutes, associations, corporations and trade associations, has been bestowing packaging awards since 1970, including WorldStar, the "pre-eminent international award in packaging."
More info: