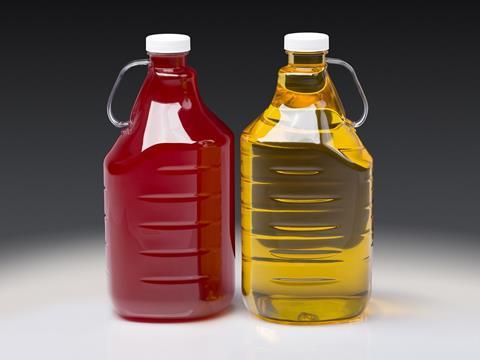 Pretium Packaging, a leading North American manufacturer of plastic containers and closures, has won three Institute of Packaging Professionals (IoPP) Ameristar packaging awards for its SureHandle™ polyethylene terephthalate (PET) container which features an integrated handle.
The SureHandle™ bottle was awarded Ameristar's top "Best of Show" honor, in addition to winning the Beverages, Non-alcoholic and Food, Shelf Stable categories.
"The Best of Show Award honors a package that surpasses all judging criteria and that judges unanimously rated 'outstanding' in every category," explained Jane Chase, executive director, IoPP.
Pretium Packaging used technology from Practically Impossible Labs, Houston, Texas, to develop the SureHandle™ stock container line. It is currently available in a 64-ounce, 38-400 mm finish, as well as a 2-liter size. The line was developed to provide brand owners with significant shelf differentiation, handling convenience and aesthetics that were not previously possible.
SureHandle™ is a "first-of-its-kind" bottle because it comes out of the injection mold with the handle already in place. (Unlike traditional preforms, the SureHandle™ preform features an injection molded handle integrated into the side wall.)
This new technology creates new possibilities for many products—including beverages, foods and household and industrial chemicals—that could benefit from a monolayer PET container with an ergonomic handleware solution.
Ameristar judges considered more than 70 packages for nine category awards. The entries were evaluated for package innovation, product protection, economics, performance, marketing and environmental impact.
More info: