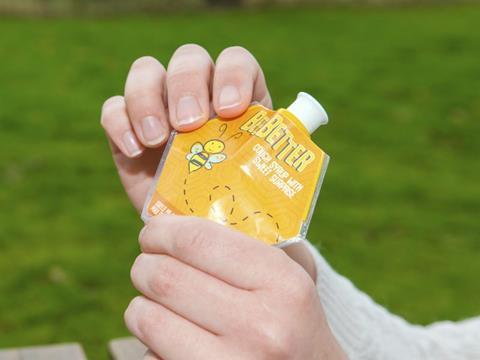 As Europe's dedicated pharmaceutical packaging and drug delivery event, Pharmapack Europe offers industry insights and the latest industry innovations that are reimagining the capabilities of pharmaceutical packaging and drug delivery. Packaging Europe attended the 2018 event at Paris Expo in a snowy Paris to find out more.
The comprehensive event programme for Pharmapack Europe 2018 included keynote speeches from leading industry figures, a symposium, educational workshops and learning lab. These explored regulatory changes and impacts, challenges in packaging and devices development: biologics, materials, sustainability and quality consistency, and how new patient-centric innovations in drug delivery will revolutionise lives and improve treatment adherence.
Pharmapack awards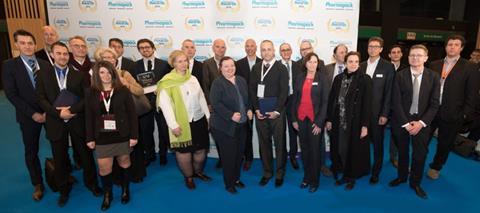 A yearly returning highlight at Pharmapack are the Pharmapack Awards. Due to the high quality of entries this year, six winners were chosen across two categories, 'Exhibitor Innovation' and 'Health Products'. In the Exhibitor Innovation category, there were three winners with BIOCORP, West Pharmaceutical Services, Inc. and sfm medical devices, chosen for excellence in 'Patient safety and convenience', 'Ease-of-use and patient compliance', and 'Patient centricity and customisation', respectively. Because of the breadth of innovations within this category, the judges felt compelled to commend a list of 'Top 10 Innovators'.
BIOCORP received the Exhibitor Innovation award for 'Patient safety and convenience' for Onejet, the first motor driven disposable autoinjector, compatible with standard primary containers, designed to easily deliver high viscosity products. Winner of the Exhibitor Innovation award for 'Ease-of-use and patient compliance', West Pharmaceutical Services' SelfDose® Patient-Controlled Injector is a simple two-step operation, designed to make administration far easier for patients with dexterity challenges. The nextaro® by sfm medical devices GmbH was bestowed the Exhibitor Innovation award for 'Patient centricity and customisation'. The product works using a patented screw system and optimises handling through the use of two plastic components. This construction means it is especially suitable for people with physical disabilities.
In the Health Product category, three winners received recognition: UCB Pharma, GSK Consumer Health and Laboratoires Virbac. The CIMZIA® Pack of 2 AutoClicks® Prefilled Pens by UCB Pharma was recognised for its feats in patient compliance with a packaging system that puts rheumatoid arthritis patients and others with hand dexterity issues at the forefront. The pen has a button-free delivery system and a wide non-slip grip, with new elements that help to improve patient compliance including a large viewing window and a clicking sound at the start and end of a full dose injection.
GSK Consumer Health's VOLTAREN « No Mess » applicator was distinguished as a winner for its improvements in patient hygiene and adherence. The packaging enables consumers to directly apply the pain relief gel without having to touch it. Laboratoires Virbac was awarded for its unique and innovative All in One Contactless Multidose Delivery Cap, a solution for the application of liquid products for both the animal and human health markets. In total, there were 22 cutting-edge exhibitor products displayed in the Innovation Gallery.
The remaining innovators in the Top 10 were Perlen Converting AG's PERLAMED-BLISTair;Gerresheimer's Gx InnoSafe; Nemera's e-Advancia®; Schott AG's iQ™; Baswen Inc.'s Pharma Adherence IoT Pack; Cambridge Design Partnership's Dialog User Insights Research Toolkit, and PLASTIFRANCE's JUST'ADOSE & JUST'ADOSE+. At the event, a wide range of companies showcased innovations to cater for the key trends emerging in the pharmaceutical packaging industry. Below are just a few examples.
Anti-counterfeiting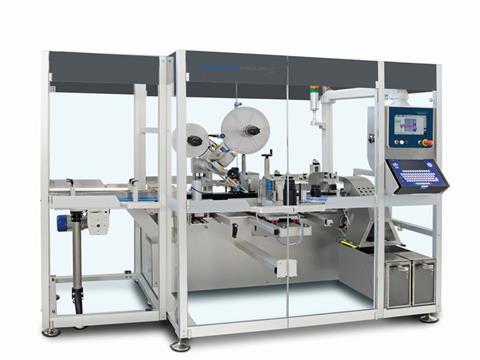 Romaco showcased a new technology enabling the implementation of anti-counterfeiting devices for cartons. The Promatic PTT was developed by the company as a new platform for anti-counterfeiting systems for carton identification. The integration of this track & trace machine in a secondary packaging line enables pharmaceutical packaging to be tracked seamlessly all along the supply chain. The Promatic PTT can be either implemented in a new line configuration or retrofitted in an existing one, depending on the specification. It makes no difference whether the PTT module is connected to a Promatic continuous or intermittent motion cartoner or to third-party apparatus. The servo-driven machine works independently; it allows synchronised operation of the upstream and downstream line components as well as positive transfer of the cartons by means of toothed belts.
Schreiner MediPharm presented a new app for BitSecure authentication with selected smartphones as well as the latest generation of handheld readers. As a result, authentication can then be performed easier and more reliably. Improvements include user-friendliness and an enhanced app back-end: The user interface of the app is intuitive and the analysis algorithms have systematically been further developed. The back-end data management system is integrated into a powerful and future-proof development environment.
The BitSecure copy detection pattern is a printed digital security feature based on a high-resolution, cloud-like random pattern. When trying to copy the BitSecure pattern, which has a size of only a few square millimetres, the printed image will suffer a loss in precision and optical details. These differences can be reliably detected by means of a smartphone app or a handheld reader.
Supply chain security, the falsified medicine directive and serialisation
Avery Dennison showed a range of products designed to address different aspects of pharma supply chain security. The company's new tamper-evident seal portfolio comprises a range of materials all secured by the S799P adhesive that offers superior performance on most varnished cardboard, making it harder to interfere with cartons and enabling easier compliance with the imminent EU Medicine Directive. This is designed to prevent "falsified medicines" entering the legal supply chain that applies to all prescription and some OTC medicinal products, requiring outer packaging to reveal any tampering, from February 2019 onwards.
TT Sensor Plus™ 2 is a 'smart label' that records time and temperature data on temperature-sensitive products, such as pharmaceuticals, biotech medicines and vaccines. It also provides a complete solution with multiple services such as a cloud environment, computer software, a mobile APP, and an application programming interface (API). Finally, Avery Dennison S717P emulsion acrylic adhesive technology provides an effective solution to reduce 'label lift' on challenging pharma applications, such as plastic/treated glass syringes, and vials, where low energy surfaces and/or small diameters place enormous demands on the label. S717P also offers a rapid recertification process. The 'P' suffix indicates it is part of Avery Dennison's dedicated pharma range, maintained as a stable product with formal change management control with 12 months notification times in place where changes have to be made.
Adents launched an online, user-friendly demo tool demonstration tool showcasing Adents Prodigi, a Cloud traceability solution that centrally manages pharmaceutical serialization regulatory requirements across a comprehensive set of production and supply chain scenarios. The demo tool amounts to a test drive of Adents' signature enterprise level (Level 4) serialization solution. Visitors can experience various functionalities to discover ways in which Adents Prodigi may benefit their business. The first of its kind for such a sophisticated, Cloud-based serialization solution, the demo tool provides both insight and transparency, adding tangibility to the complex, multi-faceted track & trace arena.
Product protection
Clariant, introduced its Tri Sorb® molecular sieve desiccant tablets specifically designed for USP <671> moisture permeability testing. The new tablets have been developed for pharmaceutical and nutraceutical packagers who are conducting moisture-permeation testing of unit-dose blister packaging as prescribed in USP <671>. The Tri-Sorb tablets are designed for placement into blister headspaces, either singly or in multiples, in lieu of the actual drug product, where they are used to test and verify the moisture vapor transmission rate, or MTVR, of blister packaging according to the USP standard.
Tekni-Plex Gallazzi showcased its Tekni-Films Flexapharm® line of SBC ultra-high moisture and oxygen barrier PVdC thermoformable blister films, delivering multiple performance attributes ideal for evolving pharmaceutical packaging needs. SBC films offer a cost-effective moisture barrier equivalent to high-barrier grades of PCTFE (Aclar®), while also providing the added benefits of superior oxygen barrier and exceptional clarity.
Patient control and patient experience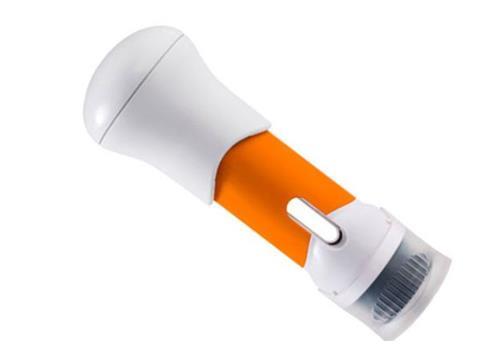 Among other advancements in integrated containment and drug delivery, West Pharmaceutical Services, Inc. showcased its SelfDose injector, which won a Pharmapack Award in the category "Ease of Use and Patient Compliance".
The SelfDose patient-controlled injector is ergonomically designed for optimal patient administration. Patient-centric features include a simple, two-step operation to deliver a subcutaneous injection, as well as audible and visual end-of-dose indicators to confirm successful administration of a prescribed dose. Additionally, a passive safety system covers the needle before and after injection to help prevent needlestick injuries to the patient and caregiver. Extensive human factors studies have been performed with the SelfDose injector, confirming the intuitive design, and supporting its ease of use and patient acceptance.
Technology and product design firm Cambridge Design Partnership (CDP) unveiled a new approach to pharmaceutical packaging, putting the patient at the centre of packaging design. An intuitive design coupled with an injection of fun has resulted in a single-use medicine pouch. The BeeBetter pouch is easy to use – the patient simply pushes on the childproof mouthpiece, which then pops up ready for use. The correct amount of medication is dispensed as the user squeezes the pack and sucks on the mouthpiece. There's a sweet surprise at the end – in the form of a spoonful of honey – to encourage the patient to finish the whole dose.
More info: