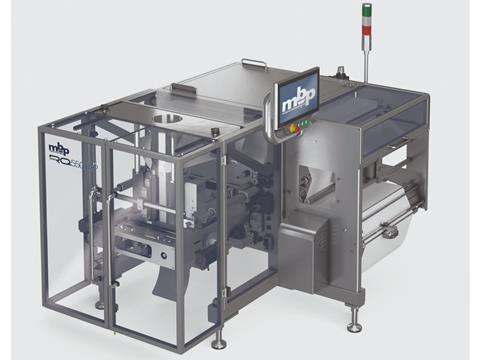 PFM Packaging Machinery, one of the most important Italian manufacturers of packaging systems with flexible film, will be showcasing a number of innovations at the interpack 2023 exhibition. Among these, visitors will be able to appreciate the RQ550 Nano packaging machine, which will surely be one of the main focuses of the event because of its cutting-edge features.
RQ550 Nano is a lowered VFFS with reciprocating motion, which can produce pillow, square bottom, 4-seal and doy style bags; its compact design also involves a height of only 1200 mm, which makes the machine ideal for operations in small spaces and for the packaging of fragile products.
The innovative sealing concept of the RQ550 Nano involves the removal and the replacement of one QRM unit with another in a few minutes, so that it is possible to switch easily from pillow/square bottom bags to doy-style bags. Format changeover is carried out with no need for further adjustments, because the QRMs feature all necessary tools to produce the different types of bags. The Sealing Control System also allows customers to set, manage, measure, and save the sealing strength used on each side of the bag, independently. Sealing strength, time, and temperature are therefore parameters that can be managed separately.
Up to 150 pillow bags and up to 60 square bottom bags (standard and 4-seal on sides) or doy bags (also with zip) per minute; easily removable forming tube and exit belt both on the back and on the side to simplify operations as much as possible: these are the main features of a machine which performance can be doubled in the TWIN version.
But that is not all: all PFM Group's companies can boast of having a pioneering role in developing machines that use sustainable, 100% recyclable wrapping materials such as paper and mono-material plastics: today, after many years of research and testing, all PFM machines can operate with these materials without performance being affected.
In short: thanks to its versatility, compact design, high production speed, operational sustainability, and ease of use, the RQ550 Nano represents the future of vertical packaging machines and PFM is at the forefront of this revolution.