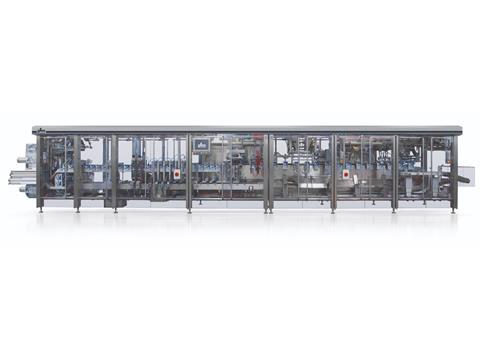 PFM Packaging Machinery, an Italian company and the general headquarters of an industrial group, world leader in the production of automatic and robotic systems for flexible packaging, will be showcasing a number of technological innovations at interpack, which will be held in Düsseldorf from 4 to 10 May 2023 - Hall 13 / A03.
Among the new products on display at the event, visitors will be able to see the D-400 EPT Series Horizontal Stand-up Pouch and the RQ700/800 Series Vertical Stand-Up Pouch.
The D-400 EPT Series is the latest addition to the extensive D-Series range of Stand-Up Pouch machines. It is equipped with an Electronic Pouch Transport System with magnetic carriages, adding further benefits to the already high peforming D-Series: in fact, the magnetic carriages group the pouches together, thus doubling the filling time compared to traditional systems. The machine can switch from Duplex to Triplex configuration in just 20 minutes with increased bag output and width format changeover. The D400 EPT can produce up to 200 stand-up pouches per minute.
The RQ700/800 is the VFFS intermittent motion packaging machine that can produce pillow bags, block bottom packs and Doy-style packs, also with zip. The major innovation lies in the new sealing unit concept, i.e. the QRM, which can be pulled out by means of a special carriage and replaced in a few minutes with a second unit to switch from a pillow or block-bottom pack to a Doy-style pack. The format changeover takes place without the need for any further adjustment, as the QRMs are equipped with all the accessories needed to produce their respective types of packs.
The Sealing Control System also allows the sealing force applied to each side of the pack to be set, managed, measured and stored independently. The sealing force, time and temperature are individually manageable parameters. The machine can produce up to 120 pillow bags and up to 60 block bottom and doy-style packs per minute; the TWIN version of the machine doubles the output.