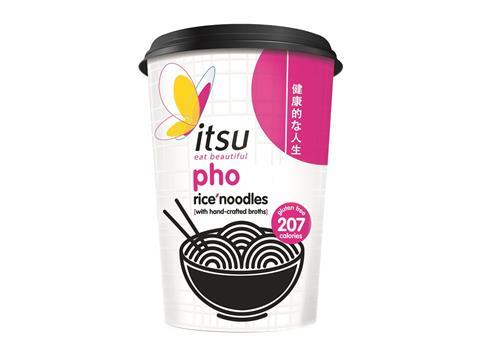 Striking new cups launched by Asian-inspired retail brand itsu are the result of a close collaboration between the company and The PFF Packaging Group.
When itsu [grocery] revitalised its popular noodles range, it also wanted a distinctive new look for the cups which needed to appeal to consumers and stand out from their competitors on shelf.
"The retail grocery environment is very competitive and our products need to combine high shelf impact with strong visual consumer appeal and recognition," said Melissa Negretti, Brand Manager itsu [grocery]. "We have invested significantly in improving the authenticity of our noodle recipes and flavours and so sought a cup that complemented this."
Using its signature recyclable 'Desto' cup as a start point, PFF's Head of innovation Craig Wilson worked closely with the itsu team to develop the stunning Japanese-inspired cup which incorporates a range of aesthetic and practical innovations.
The unique card wrap around each cup features an intricate embossed pattern which imitates a Japanese paper screen and gives consumers a more tactile experience. Both the cup and the wrap are recyclable. In production terms, the embossing stretches across the full width and breadth of the printed cup and is meticulously matched with itsu's print register. The smart black thermoformed polypropylene lid is also embossed with itsu's trademark butterfly and incorporates innovative internal features to maximise functionality. Additionally, the inner lining of the cup features a printed design and message, thus maximising the opportunity to communicate with the consumer.
"As careful custodians of itsu's design and brand values, we wanted to create a bespoke cup that was visually stunning while the tactile element took the design to the next level. At the same time it was vital to ensure that the cup remained robust and performed perfectly," comments Libby Coe, PFF Key Account Manager. "We relished the technical challenges and greatly enjoyed working alongside itsu to create such a distinctive and eye-catching product."
itsu Grocery's Head of Development, Adrian Cohen, agrees: "I think PFF were amazed at the attention to detail that our brand demands on every aspect of the packaging, which matches the passion that goes into our recipe development. They tackled these challenges enthusiastically and creatively, and) worked tirelessly to make sure that our vision was faithfully transformed into the final product."
The new range of four flavours (Katsu, Satay, Pho and Chilli Miso) were rolled-out instore from January.
More info: