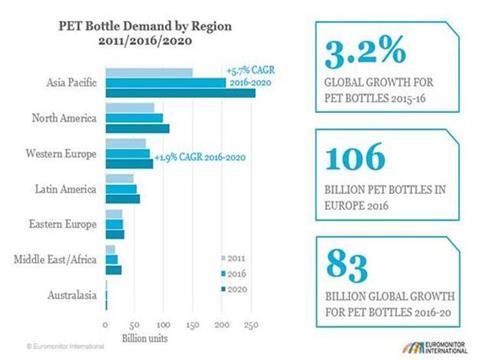 Market research provider Euromonitor International has released new packaging data. According to the latest research, the PET plastic bottle (polyethylene terephthalate) is the second most popular consumer pack type in the global consumer packaging market place, after flexible plastic (in 2016 retail unit volume sales) and is set to grow by 3.9% over the next five years.
PET is outpacing growth of other packaging materials because of its flexibility in form and size, especially in beverages when compared to arch rivals, such as the beverage can, glass bottle and liquid carton. The re-closability afforded by the PET bottle for on-the-go convenience is a pertinent, core strength of the format. When it comes to global prospects for the PET bottle, Asia Pacific is a particular stand-out region that shows an increasing propensity for this pack format.
Rosemarie Downey, global head of packaging research at Euromonitor International comments, "The vast majority of PET bottles bought across the world are for soft drinks and led by water (241 billion bottles) and carbonated soft drinks (104 billion bottles); these two beverages accounted for 69% of global PET bottle volume sales in 2016. Sales of bottled water in PET bottles accounted for 84 percent of the global increase of 17.9 billion PET bottles in 2016, the success and opportunities for bottled water is underpinned by a greater consumer interest in eating and drinking healthier. The global rise in consumption of bottled water in PET bottles and water-like beverages is linked to consumers increasingly seeking to hydrate with a natural, functional and low-calorie soft drink as opposed to other soft drinks with higher sugar and calorific content. Wellness and well-being are key concerns of consumers today."
ALL REGIONS OFFER GROWTH, ASIA AND MIDDLE EAST ARE MOST DYNAMIC
Downey continues, "China is the number one world leading country for consumption of PET bottles. It accounted for 24 percent of global PET bottle demand alone in 2016 and is a critical country to understand when examining global volume growth prospects for PET. China's requirement for PET bottles continues to expand. In 2015 consumers in China purchased 68.4 billion bottles of water and in 2016 this increased to 73.8 billion bottles, up 5.4bn. The significance of soft drinks to PET's prospects in China is clear and this is very much shaped by the bottled water industry and players, such as Master Kong and Nongfu Spring and important year-on-year increasing consumption of bottled water by Chinese consumers. This is also due to the increased urbanisation, a desire for healthy living with bottled water being consumed for its mineral content and natural health benefits alongside bottled water answering ongoing concerns about ground water contamination and the quality of tap water. It's the bottled water category and heightened consumption of bottled water around the world, aligned to living healthier, that positions bottled water as the single most important growth provider for PET."
KEY COUNTRIES FOR PET TODAY AND THEIR POTENTIAL TO 2020
US PET bottle consumption in 2016 amounted to 93.9 (94) billion bottles, of which bottled water amounted to 52 billion PET bottles. Bottled water in PET bottles is forecast onward growth of 3.3% CAGR for 2016-2021.
RIGHT SIZE AND SHAPE: SMALLER SIZES TO CONTROL SUGAR INTAKE
Meanwhile looking at pack sizing innovation in carbonates, Coca-Cola's 300ml PET bottle, retailing at circa RMB2.5, offers consumers a healthier portion size alternative to the more standard 500ml size and also competes with the 330ml beverage can that retails at circa RMB2.8. We expect to again see more innovation in product variety and pack sizing especially amongst the smaller single-serve sizes to further the opportunities overall for soft drinks packaging and particularly for the PET bottle as the clear-cut soft drinks pack of choice in the Asia Pacific region.