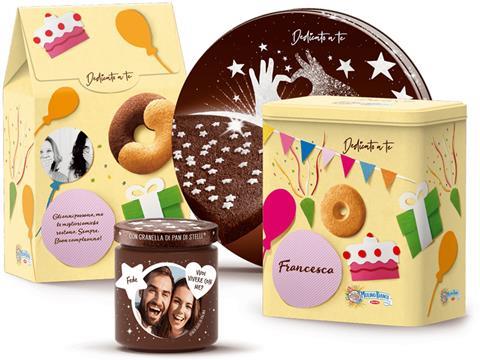 There is an increasing awareness that what consumers are looking for is a more bespoke offering from brands. Launched on 16 November, Barilla Group's Dedicato a Te ('Dedicated to You') is an Italian e-commerce platform which offers the personalization of the brands Mulino Bianco and Pan di Stelle.
Consumers can choose from a wide range of creative packaging designs based on different occasions for celebrations throughout the year (i.e. Christmas, Valentine's Day, Birthday, etc.), then select the product and packaging material according to their own preferences.
"Dedicato a Te offers an incredibly wide range of combinations between packaging materials, shapes, products, and graphic designs," says Giulia Salem, Customer-Driven Packaging Innovation, Barilla. "Furthermore, we went the extra mile creating an even more unique and personal object: for each of these combinations, consumers can personalize the packaging with names, messages, and pictures.
"Finally, the Dedicato a Te packaging is not only unique but also recyclable and made in Italy, to be fully in line with Barilla's sustainable goals."
Of course, we've been in the era of 'mass customization' for quite some time, but true personalization is still relatively novel. We asked Giulia why she thinks consumers are increasingly looking for a more bespoke offering from brands.
"One size does not fit all anymore. The amount of choice that the consumer has had in the last years has been incredibly high, and the growth of online purchases is transforming the market into a limitless shopping space. This is making consumers becoming more conscious about their needs and desires, driving them to look for custom objects that stand out from the crowd and tell their unique story."
If this is the case, then why aren't all brands opting for a similar platform? Arguably, it's not so simple - there are the cost implications of smaller packaging runs, to be considered, increased production complexity and more besides.
"It is no doubt that on demand packaging personalization brings higher production complexity, product costs and longer lead time," says Giulia. "Product personalization can only be achieved through flexibility, agility and a strong cooperation with suppliers and supply chain partners."
With all this, must also be combined the need for sustainability - something that Barilla take seriously. "The packaging design phase of Dedicato a Te focused, not only on the development of recyclable solutions, but also on the selection of materials that could encourage consumers to give a second life to their personalized packaging."
We were also interested to hear Barilla's views on whether the Covid-19 pandemic, in addition to undoubtedly speeding up the e-commerce boom, has further increased consumers' appetites for a more personalized offering.
"The global pandemic we are experiencing has certainly changed our way of dealing with everyday life: relationships and work have switched to virtual as well as everyday habits such as grocery shopping or buying gifts for our loved ones. The Covid-19 pandemic has boosted digitization in different ways, and we see in e-commerce the winning approach to connect directly with our consumers in these difficult times."
And finally, how ambitious can brands be moving forward when we consider the exciting advances in areas such as digital printing, AR and so on. In short: where will personalization take us?
"The objects and products customization scenarios are certainly very wide," says Giulia. "However, the study of possible evolutions is not trivial given the implications that large companies may have at production or logistic flow levels, so studying the evolutions it will be essential to combine users' needs, business complexities and technological developments. Generally, we are very excited about the opportunities that new technologies and experimentations can offer us to develop innovative and more meaningful experiences for our consumers."