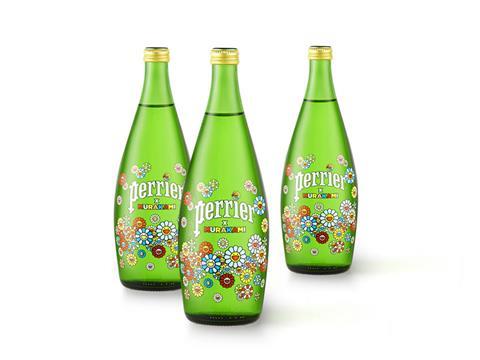 Perrier has announced PERRIER x MURAKAMI, a new collaboration with renowned artist Takashi Murakami, inspired by the pop and colourful universe of the artist and the spirit of Perrier.
In October 2020, premium limited-edition Perrier screen-printed glass bottles featuring original artwork by Murakami will be launched around the world, followed by a reworking of Perrier's original range.
This project adds to Perrier's 150-year history of collaborating with influential artists, including Andy Warhol, Salvador Dalí, Bernard Villemot, Raymond Savignac, Carlu, and Jean-Gabriel Domergue – all of whom created posters and artworks for the brand.
Murakami's signature smiling flowers will be featured on the bottles, alongside his most beloved characters, Kaikai and Kiki. Additional product formats, including cans, will launch in early 2021.
Murakami is considered one of the most important Japanese artists of his generation. Drawing from traditional Japanese paintings, sci-fi, anime, and the global art market, he creates paintings, sculptures, and films populated by repeated motifs and mutating characters of his own creation.
His wide-ranging work embodies an intersection of pop culture, history, and fine art, merging the commercial and fine art realms and seeking to flatten the distinction between high and low culture.
Giving his views on the collaboration, the artist comments: "When Perrier first approached me, I felt extremely lucky to have the opportunity to collaborate with this sparkling water brand with such a long history.
"Perrier for me is closely associated first with the colour green – of course! – and then, with the pleasant bubbling sound of carbonation. I'm grateful to be part of the brand's expanding views and future-facing concepts through this collaboration."
Paul Cordina, global communications manager at Perrier, adds: "The vibrancy and delight of Murakami's work is the perfect match for Perrier, a brand that has invested for over a century in creativity to bring out a differentiating brand spirit, tinged with its unexpected, crazy and original personality.
"The brand has inspired and collaborated with some of the world's most famous and distinguished artists, who have each in their own way established a touch of artistic irreverence, providing them a space of expression in the identity of Perrier."