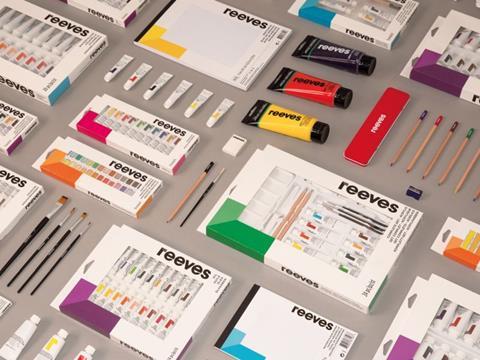 A heritage brand steeped in artistic integrity, Reeves has always represented the epitome of creativity within the classic domain of art and the extensive Colart portfolio.
With an identity that has remained untouched for more than 250 years, however, the brand had become dated and disconnected from the contemporary 'creative' consumer. Recognising a need to update its desirability and re-establish an emotional connection with customer, Reeves turned to independent branding and design agency Pearlfisher to transform its brand vision, visual identity, packaging design and digital expression. Armed with insight from a series of global consumer workshops, Pearlfisher Futures – the agency's insight and innovation arm – sought to understand the shifting significance of creativity in the lives of the 'maker generation'.
Pearlfisher Futures Director, Sophie Maxwell, says, "Confident, connected and expressive, millennials exemplify a new creative lifestyle: one in which the act of creating is no longer limited to the arts or the domain of the artistic, but rather an exploration of identity, an avenue for self-expression, a form of release in an overly digitised world." To resonate with millennials who create to relax, play, share and connect, Pearlfisher's Strategy team saw an opportunity for Reeves to reinvent itself as a lifestyle brand. Embodying a shift from 'artistic creation' to 'self-expression', the new strategic vision revises the brand's focus from the discipline of art to the democratisation of creativity. The new positioning – creativity as an instinctual state of mind as opposed to a qualification – comes to life in a brand-wide call to 'Ignite creative spirit,' which manifests itself across four key touchpoints: Design, Communication, Innovation and Experience. Pearlfisher's boldness in translating this positioning into a design outcome is clear to see: everything about the new brand identity represents a radical departure from what it was before. "To take Reeves from a heritage brand to a lifestyle brand," says Pearlfisher Associate Creative Director, Jon Vallance, "we had to, figuratively, 'kill the dog', the visual equity most closely associated with Reeves, and give the brand scope to reflect the individual. Where the old packaging is prescriptive, showing finished artworks and step-bystep guides, the new packaging is about sparking creativity and celebrating spontaneous creation."
The new visual language organises the complex portfolio of Reeves products into one that is simple, navigable and inspiring to the consumer. With a cleaner typeface, colourful coding system and bold wordmark in which the 'R' evokes a framed corner, the system reflects the brand's evolution from dusty and dated to being all about framing creativity. Pearlfisher has also extended this idea and identity seamlessly into the digital space with a brand new website for Reeves. Intended to facilitate community as opposed to simply sell products, the website serves as a space for inspiration in which creators at both ends of the artistic spectrum can interact with the brand on an emotional level. Daniel Mark Carr, Senior Global Brand Manager at Reeves, said of the work, "It's been a joy to work with Pearlfisher. Not only has the team understood our needs at every stage of the project, but they've defined a brave new future for Reeves that places us firmly in a contemporary, inspirational lifestyle space. We're now equipped with the tools to embrace, connect with and celebrate a whole new generation who express their identity through creativity." Pearlfisher continues to work with Colart on its NPD innovation pipeline.
More info: