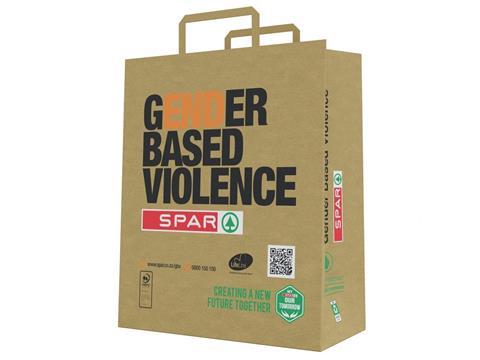 Mondi has collaborated with Taurus Packaging on a wet strength paper shopping bag for the South African retail market, which it says can prevent up to 2 million plastic bags from entering waste streams in the region every month.
According to Mondi, the bag uses its Advantage Kraft Plus with wet strength, which makes it suitable for carrying groceries. The wet strength feature apparently enables the shopping bag to meet the 16kg standard requirement of the South African market without tearing when cold products and liquids condense while inside.
In addition, the shopping bag is reportedly designed to cope with South Africa's weather conditions, including humidity. Mondi adds that it can also withstand longer customer journeys on public transport.
The collaboration with Taurus Packaging will allegedly see two million shopping bags produced a month using Mondi's paper. It claims this will provide a recyclable, renewable, sustainably sourced, and PEFC certified alternative to plastic shopping bags.
Conny Josefsson, sales director for Sack Kraft Paper at Mondi, comments: "Applying our customer-centric EcoSolutions approach, we were able to support Taurus in their search for a sustainable paper bag alternative.
"With our kraft paper expertise, we have made it possible to still use and reuse these paper bags under demanding handling conditions."
Mondi continues to supply innovative paper-based packaging solutions to a range of brands and on a global scale, which includes its contribution to consumer goods company Unilever's food packaging applications and its e-commerce focused innovations for the transport of chilled perishable food in Europe.
Mondi's Advantage Kraft Plus with wet strength, alongside its other water-repellent paper grades, has been developed with a particular focus on markets where humidity and rain can limit paper packaging options, such as shopping bags or cement sacks.
Two national chains, SPAR South Africa and Food Lover's Market, will use the new paper bags from Mondi and Taurus Packaging as part of ongoing commitments from both companies to sustainable solutions for customers. Food Lover's Market has already banned plastic bags from its stores.
Angela van der Merwe, packaging coordinator at the Food Lover's Market Group, says: "The response from consumers has been overwhelmingly positive as the paper bag itself is very strong and on average can be used seven times and carrying a weight of about 10k."
Devin Galtrey, from SPAR South Africa, adds: "Where paper bags used to tear easily, this paper repels water so makes it possible for us to provide a practical, reusable and recyclable alternative that reduces the use of plastic bags."