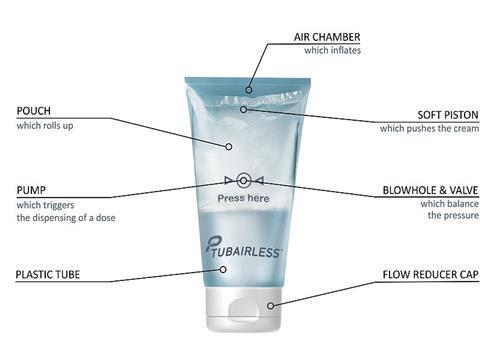 Elisabeth Skoda looks at key trends in area of closures and dispensing systems, and explores how key industry players are working to address challenges such as convenience, sustainability and connectivity.
Convenience and an aging population
An innovative closure or dispensing system can help to make life easier for consumers, who may struggle to open a bottle or have to go through great lengths to get all the product out of a tube, including cutting off its ends.
In order to address this issue, bridging the gap between plastic tubes, soft pouches and airless pump bottles, the patented Tubairless® system arose from a collaboration between Dow and PumpArt System to reduce product waste by up to 80 per cent. Whereas traditional tubes only dispense around 75-80 per cent of content, the Tubairless® design has an evacuation rate of almost 100 per cent, without resorting to a pump.
"The Tubairless® design is the first airless squeezable tube that does not require a dispensing pump and retains its shape. Its innovative venthole design enables accurate flow control, efficient dispensing even on thick formulas, and ease of use in any 360⁰ position. In addition, by retaining its shape until the last drop, the design enables brand owners' messaging to remain intact," says Fabrice Digonnet, Dow's new business development leader in EMEA.
"As people get older they have less strength in their hands and lose the ability to squeeze a tube hard to evacuate the last bit of a product. Tubairless® helps them to get the product out of a tube easily."
Opening bottles can also pose a challenge for senior citizens. UNITED CAPS came up with a solution.
The product development process needs to take into consideration the needs of ageing consumers who can find it hard to open a bottle of water, because their hands may not be as strong, and the closure not easy to handle. "UNITED CAPS came up with a patented design, responding to these needs: the Wattwiller closure," Benoit Henckes, the company's managing director, explains. "Its unique flower shape makes the product stand out on the shelf, and it also makes the opening of the bottle easier than a regular closure. Simultaneously, it meets the customer's requirement for speed on the capping line."
An important factor for consumers of all ages is convenient opening. This is driving the move of products such as canned fish and infant formula toward peelable ends.
"For fish products, this can virtually eliminate splashback from the oil or brine packed in the containers; for infant formula, a peelable end is far easier to open quickly, helping busy parents whose time is at a premium," adds Laetitia Durafour, marketing and communication director, Crown Food Europe.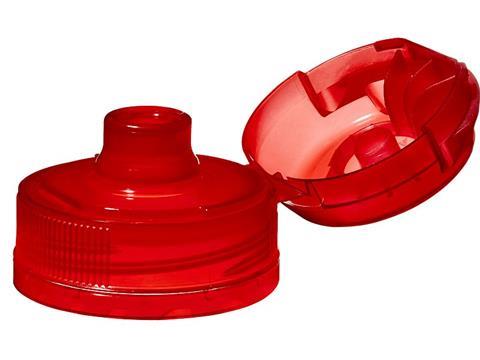 Also catering for the demand for easy openability, Aptar recently launched UNO 38mm, a new a one-piece closure sport cap made of PP to suit the requirements and performance of the flip-top design and to provide the option of translucent or opaque colours. UNO provides one-hand opening and reclosing.
"The development in this larger, wide mouth neck finish is driven by the combination of three factors: The continuous growth of aseptically processed, shelf stable beverages such as juices, drinkable dairy, ready-to-drink coffees and teas, preservative free drinks and water, the dynamic growth of on-the-go beverage consumption in single serve packaging formats and the increasing consumer demand for on-the-go beverage convenience, hygiene and resealability provided by a flip-top sport cap with a larger neck finish," adds Jean-Marc Philbois, president global market development, Beverage.
Green closures
It's no secret that sustainability is the primary buzzword in the packaging industry, with consumers and the media pushing for less waste-intense solutions. The challenge for manufacturers is to cater for these needs without compromising performance.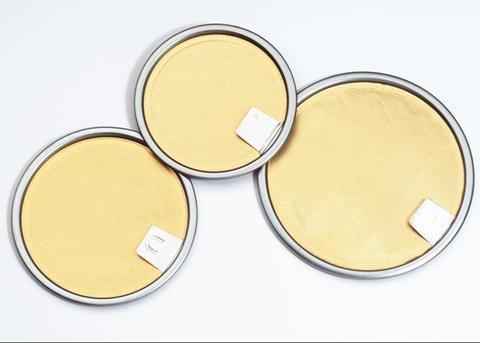 "Where we look to reduce material use through lightweighting, we always have performance in mind," Ms Durafour explains. "Crown's Peelfit™ technology delivers the same performance across the supply chain as a regular dry food can but is 16 per cent lighter. Peelfit™ utilises Direct Heat Sealing Technology (DHS) to seal an aluminium foil to a collapsed bead within the can body. This optimises product protection, enhances sustainability and represents a 32 per cent saving in energy. In addition, metal packaging across the board is 100 per cent recyclable and infinitely recyclable – meaning it can be recycled again and again with zero loss of properties."
Consumer demand for renewable materials and reducing the usage of plastic material is steadily increasing. "This offers a chance for brand differentiation, which is hard to copy, and a market-driven requirement for recyclable products and packaging," explains Mrs Astrid Hoffmann-Leist, chief marketing and innovation officer for UNITED CAPS. "An example for this are UNITED CAPS' GREENER closures, which were delivered in collaboration with Braskem, a leading Brazilian petrochemical company. These bio-sourced plastic caps and closures are made from sugar cane, a renewable alternative to traditional fossil feedstocks. Being a renewable feedstock, sugar cane captures and fixes CO2 from the atmosphere with every growth cycle, which occurs annually. This means that the production of bio-based polyethylene contributes to the reduction of greenhouse gas emissions when compared to conventional polyethylene, made from fossil materials."
Many packaging companies offering post-consumer resin and other sustainable resin alternatives, however, their limited offering and cost can still be a barrier for adoption. "Therefore, in parallel to these initiatives, Aptar has been working on its 'Stay-With' technology, where a tamper band attaches the closure to the bottle throughout its life cycle, further ensuring it won't get lost once the package is disposed and can be recycled in the correct way," Mr Philbois says.
The reduction of plastic used in a closure or dispensing system and the capability to empty a product can also play an important role.
"Tubairless® boasts a reduced use of plastic parts by up to 65 per cent, With less raw materials required for manufacture, the tubes are also lighter weight than pump-driven alternatives, in turn reducing the carbon footprint from transport. Moreover, in order to recycle a product, it is important that it is clean. If the product is fully dispensed, it is cleaner and therefore easier to recycle," explains Mr Digonnet.
Meanwhile, as consumers are becoming increasingly health conscious, there is an increased desire for products that are deemed natural, i.e. free from preservatives and additives. With smart packaging design, the need for these preservatives can be reduced or removed altogether.
"The Tubairless® design is the first airless squeezable tube that does not require a dispensing pump and retains its shape, allowing a reduction of the use of preservatives," Mr Digonnet say. "Dow will soon be unveiling the new Tubairfree®: a 100 per cent air free system. This will enable clean dispensing, avoiding oxidation and unsightly changes of colour, as can be the case in applications such as conventional ketchup packaging."
Connectivity
Packaging has an important part to play in brand protection. Advanced packaging solutions can provide support in the fight against counterfeiting.
UNITED CAPS' QR+ technology is a combination of a QR code and secure fingerprint that helps brands enhance consumer confidence. Holographic technologies are integrated into the closure, forming an intrinsic and irremovable security feature, providing immediate verification of product authenticity with no need for additional scanners or other equipment.
The closure market represents a vehicle to embed connectivity in consumers' everyday life and further enhance brand-consumer engagement through data management and instant feedback.
"Aptar has recently introduced a new line of connected solutions called c-Devices for the pharma market which provides convenience and actionable feedbacks to patients and providers," Mr Philbois reveals. "Our connected devices can demonstrably improve patient outcomes by helping to identify patients with the highest levels of non-adherence. Delivering precise information and prompts to take medication results in greater levels of engagement, improved dose adherence and therefore improved health outcomes among those patients."
On-shelf differentiation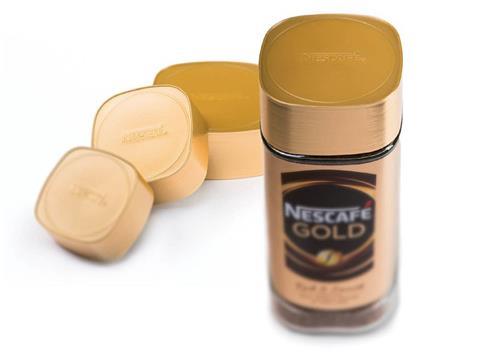 Meanwhile, alongside smart technology and improved functionality old-fashioned sensory impact is still driving innovation in closures. The new format for Nescafé Gold coffee is a nice example of a brand using the cap for emotional impact.
"Nestlé wanted to create a package for its Nescafé Gold coffee to present a premium image in line with market trends for coffee products," Mr Henckes explains in conclusion. "The company was aiming for a classy brushed metal look. This required a 100 per cent metallic material to be wrapped around the skirt of a closure, something that had never been done before. The closure consists of three pieces: an 'inner' (inside piece), a 'liner' (a foam gasket ensuring isolation of the coffee from the exterior) and an 'outer' (outside piece) that includes an IML. Each piece is made from a specific material: the inner is made with a different type of polypropylene, the liner is in polyethylene foam with an aluminium seal, and the outer is made with special PP. The in-mould labelling included in this outer is multi-layer. The base is PP in order to stick to the cap and includes aluminium to attain the metallic appearance."