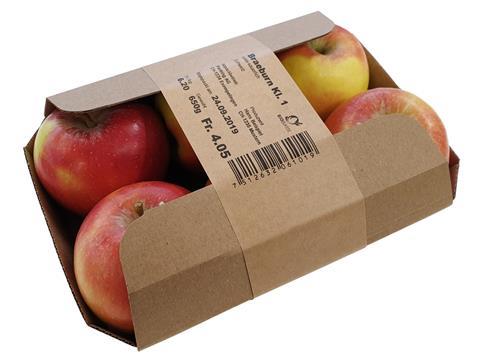 Thomas Weber, Content Manager at ATS-Tanner Banding Systems AG puts the case forward for banding as a resource-efficient, sustainable solution to the plastic waste issue.
Banding is an alternative to packaging technologies such as shrinking in plastic, strapping or gluing. As primary or secondary packaging, a band made of paper or high-quality film either holds several products together or serves as final packaging for individual products. Because bands can be printed on both sides beforehand and can be provided with additional information during banding, they are simultaneously image, advertising, and information carriers. Thanks to the large variety of band widths, banderoles can also be used, for example, for recipes or the illustration of operating instructions.
Banding machines are available from manually operated table models to fully automatic, integrated high-performance systems. Stand-alone machines are easy to operate – they work according to the plug & play principle and function even under tough conditions. This applies especially to banding machines that weld bands with the use of ultrasonic technology.
More and more consumers are opting for products that are packaged in an ecologically sound manner. With their plastics strategies, the EU and Switzerland are setting the course and corresponding laws and regulations have already been or will soon be enacted. Retailers have recognized this urgency and are themselves developing sustainability strategies and pursuing ambitious goals aimed at reducing plastic packaging and waste. Banding could be the answer to many questions arising from these challenges. Banding stands for "only as much packaging as necessary", whilst also allowing packaging to be attractive. But, in any case, they are often 100% recyclable and ready for a functioning recycling economy.
Banding is a suitable technology for primary packaging when it comes to bundling and/or labelling fruit and vegetables. Thanks to ultrasonic technology, our bands are 100% adhesive-free and don't contain toxic or chemical residues. If food products already have primary packaging (e.g. films to reduce food waste), banding takes over the resource-conserving grouping into collective packages. But, a banderole can do even more: it also protects against unauthorised opening, replaces the price label, provides all product information and assumes the function of an attractive advertising medium. Paper or film banderoles can be printed with advertising messages in advance and with dynamic information just-in-time during banding.