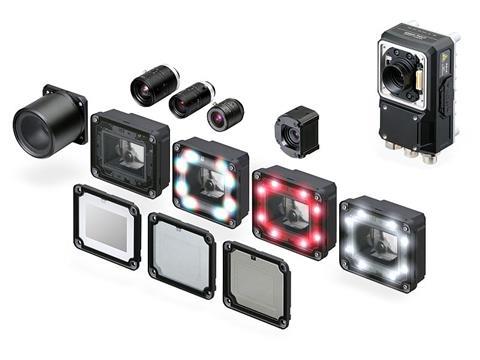 Omron Corporation has announced the global release of its new FHV7-series Smart Camera combined with illumination and image processing functionality for advanced vision inspections.
Thanks to the world's first multi-color light and a best-in-class 12-megapixel high-resolution camera, only a single FHV7-series Smart Camera is required for achieving the industry's highest standards of precision in vision inspections on a high-mix production line.
While consumers' quality requirements are becoming stricter, corporate social responsibility is increasingly important. To meet these requirements, manufacturers are introducing stricter quality control checks, to maintain and improve product quality and to promptly identify causes of defects. In addition, in line with the trend of mass customization to satisfy changing consumers' needs, different products are more often produced on a single line, which requires quality inspections of products in different colors and sizes. To carry out such advanced quality inspections in flexible production, it is crucial to minimize downtime for changeover to different products.
It is in this context that Omron is entering the field of high-performance smart cameras that make it possible to easily adopt advanced vision inspection in manufacturing processes. Equipped with a multi-color light and an autofocus lens, the FHV7 Series can respond flexibly to changes in the color and size of objects to be inspected. This eliminates the need for special skills for camera installation and adjustment to cater for different products and inspection criteria, even in a flexible production line where many different types of products are produced in different quantities.
Moreover, image processing at best-in-class speeds and a 12-megapixel camera delivering best-in-class resolution make it possible to achieve higher precision of inspections and raise production quality without dropping the speed of production. Added to these features is a high-speed image compression algorithm that compresses inspection images at double the regular speed, enabling all image data to be saved even during measurement and allowing complete traceability in production processes where quality control is paramount.