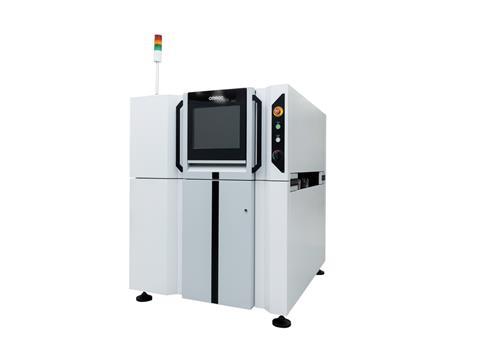 OMRON announces its new inspection system, the VT-S10 Series, which uses imaging technology and AI to automate high-precision processes for PCB sub-assemblies, apparently eliminating the need for specialist operator skills.
The company says it is responding to increases in demand for the new global wireless standard 5G, electric vehicles (EVs), and autonomous driving, which have apparently made the inspection of in-vehicle PCB assemblies more challenging.
OMRON adds that additional challenges – which its VT-S10 Series seeks to address – include PCB assemblies becoming denser and smaller, while the COVID-19 pandemic has exacerbated the alleged shortage of skilled workers and required employees to avoid close contact on the factory floor.
According to the company, this means that the frequency of visual inspections has decreased. Conventional PCB inspection systems apparently struggle to take accurate images of solder shapes, which can also limit the scope and parameter of inspection.
However, the company insists that these challenges also mean inspection is as important as ever to maintain and enhance quality, and to ensure the security and safety of the production.
The VT-S10 Series is equipped with OMRON's Multi-Direction Multi-Colour imaging technology, reportedly optimising irradiation angles, colours, and light intensity of illumination during inspection of PCB assemblies. This apparently eliminates interference from shadows of neighbouring tall components and allows for reading patterns on substrates and prints on the surface of components.
Data collected by the VT-S10 Series can be linked with other equipment and locations using OMRON's QupAuto process software. A database can allegedly be developed of inspection results, including numerical values and images from each process, which can be connected with production equipment manufacturers to reduce and prevent defects.
OMRON says that the new inspection technology also enhances the first pass yield rate by automatically optimising post-print/post-placement inspection criteria based on the inspection results at the final process.
A validation test with a customer apparently demonstrated that, with the introduction of the VT-S10 technology, the defect ratio was reduced by more than 50% by detecting and dealing with quality variations before defects occurred. OMRON adds that the new technology can reduce the human-hours required for set up by around 70%.
Earlier this year, OMRON collaborated with Reeco on the development of a new RB1200 cobot palletiser that apparently has a 60% smaller footprint than a conventional robot palletiser, while its mobile delivery robot was launched in Helsinki, Finland, as a trial for its automated courier service.