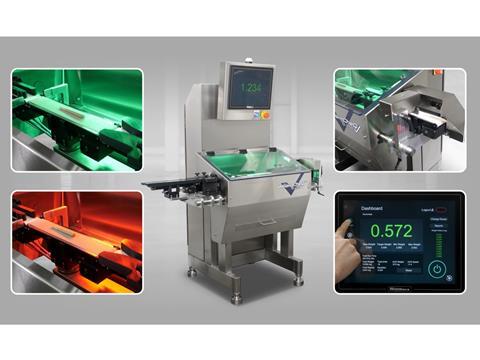 WeighPack has unveiled its new, high-precision checkweighing machine, aiming to weigh products such as pharmaceuticals, cosmetics, precious metals, and cannabis pre-rolls with an accuracy of 0.01g while reducing waste via reuse.
Engineered with a weight range of 0-250g, the WeightCheQ 0-250 makes use of electromagnetic force restoration (EMFR) weigh cell technology to accommodate products requiring tight tolerances and read in three decimal points.
The weigher will apparently reject any products outside the tolerance level set by the user and place them into an accumulation drawer for reuse. Its visual operation interface will illuminate with a green light to inform the user that the product is within the appropriate weight range, and a red light when it is outside the set tolerance.
The machine does not require compressed air and is reportedly easy to integrate into existing packaging lines due to its compact, modular design – nor are changeover parts needed to move it between production lines. It features a stainless steel frame, food-grade belts, and a large colour touchscreen, as well as upstream and downstream data links and 20-recipe storage.
WeighPack also launched its new coffee bagging system for premade box gusset bags earlier this year. Once the ground coffee passes through the bagging machine, it is transferred to the WeightCheQ check weigher, where it is ensured that the pack meets the appropriate weight tolerance before it is accumulated on a rotary table.
WIPOTEC-OCS also released its All-In-One Inspection Unit, combining X-ray technology with checkweighing and a vision system that can verify label placement, barcode legitimacy, film detection, and validation of expiration. Such combi-systems are growing in popularity in the weighing and inspection industry, according to representatives from Mettler-Toledo and Fortress Technology.