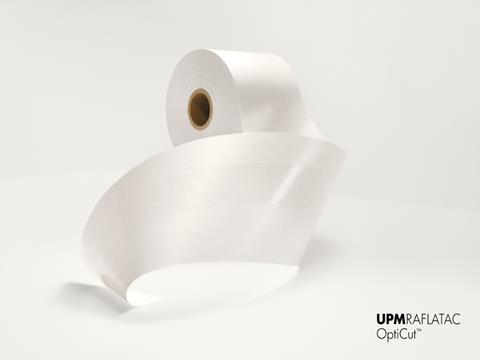 UPM Raflatac and Logopak are collaborating on what claims to be the first robust linerless solution in print and apply labelling; it is expected to increase the running length and capacity of label rolls and reduce both costs and CO2 emissions.
Reportedly, Logopak's Logomatic 410 Linerless labelling system is fully automatic, able to flexibly label secondary packaging and shipping cartons within a reasonable cost. While it cuts active adhesive-coated labels into individual sizes, said to optimise both the material input and economic efficiency of the machinery, UPM Raflatac's Linerless Opticut prevents the paper from jamming and 'provides excellent adhesion with minimal adhesive build-up'. This solution would lessen the need for roll changes, which would theoretically lower material costs and decrease reliance on raw materials in comparison to standard, pressure-sensitive labels.
The new solution is said to have been successful in tests conducted by Logopak, resulting in no significant pollution or major abrasions of the cutter. This is thought to tackle previous issues with speed, accuracy, and reliability in linerless labelling. It is also expected to cut down on service time while allowing customers to maximise the system's uptime.
"We have been determined to develop linerless labeling to new heights to drive both sustainability and efficiency," says Ville Pollari, business segment director, Paper Laminates EMEIA, UPM Raflatac. "By joining the forces with Logopak we can accelerate these advancements and offer first class solutions also in the field of automated labelling."
Patrick Petersen-Lund, product manager at Logopak Systeme, adds: "Our vision is to make industrial labeling consistently sustainable in order to improve the eco-balance in an efficient way. By close cooperation with UPM Raflatac, we achieve a perfect interaction in the field of linerless labeling technology which enables us to offer complete solutions for our customers, from machinery and software until consumables.
This underlines our mission to make business "Faster. Safer. Greener."
UPM Raflatac recently achieved Natural Capital Partners' CarbonNeutral certification for its linerless product range, with the products reportedly enabling a 40% reduction in material usage.
In March, Avery Dennison acquired the IP for linerless label technology developed by Catchpoint Ltd. in pursuit of both circular solutions and environmentally friendly business practice.