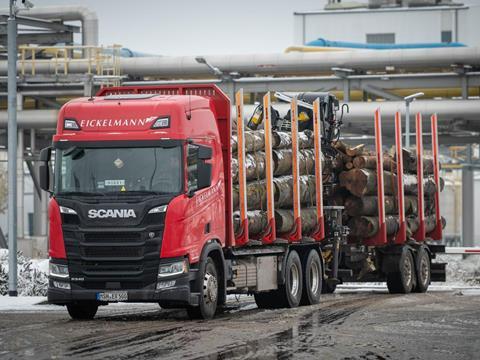 UPM Biochemicals' biorefinery – currently under construction in Leuna, Saxony-Anhalt, Germany – has reportedly received its first delivery of wood from 'sustainably managed' regional forests in a step towards the company's ambition for a 'world beyond fossils'.
As it is sourced from regional beechwood forests, the wood is thought to conserve natural ecosystems and protect biodiversity. UPM claims that all the wood it uses to produce renewable biochemicals is certified – all the districts of the 21,500 hectares of forest from which it is sourced are approved by PEFC, some by FSC – and is both fully traceable and supported by a verified third-party chain of custody.
Alongside utilising the wood to test its handling and processing activities, the company expects to facilitate reliable supply chains and processes for future wood-sourcing operations and logistics chains. It is also said that the delivery 'underlines the overall progress made on-site and the growing maturity of the company's business platform'.
"The bioeconomy inspires us to create a future beyond fossils," says Michael Duetsch, vice president at UPM Biochemicals. "Our biochemicals are made from responsibly sourced hardwood and their CO2 footprint is a radical improvement on their fossil-based equivalents.
"The deliveries, coming from regional forests, are a big major step towards the planned commissioning and start-up of the refinery next year. And they are proof of our rigorous focus on sustainability, from the sourcing of our wood, through the footprint of our process and the impact of our products."
Holger Koth, head of Saxony-Anhalt State Forest Service's south division, adds: "This is a historic milestone. We are supplying the first sustainably sourced, certified beechwood from forests in the region to UPM Biochemicals. The biorefinery's responsible use of regional beechwood will enable forest businesses and foresters to tap into a new, sustainable end-use in the future.
"We ensure sustainable harvesting practices supporting the preservation of forest ecosystem services, such as biodiversity and carbon capture. This responsible economic use of the hardwood is good news for the forest, the economy, and the planet."
The news comes alongside the completion of the pipe rack at the biorefinery's construction site, with a reported 1,000 workers currently contributing to building efforts. The biorefinery is expected to produce UPM's BioPura, a bio-monoethylene glycol set to serve as a base for such products as PET bottles, packaging materials, polyester textiles, and engine and battery coolants.
The conversion process is co-owned and co-developed by The Coca-Cola Company and Changchun Meihe Science & Technology, and it is thought to be more efficient than production technologies that existed previously.
UPM's renewable glycols, or Bio-MEG, are said to reduce manufacturers' scope three emissions and reduce their reliance on fossil-based feedstocks, for which reason the company was a finalist in the 2022 Sustainability Awards under the Pre-Commercialized Innovation category.
Sourcing wood in local forests may be a partial solution to Wood Resources International's concerns that the war in Ukraine would disrupt European lumber markets due to decreased exports and economic sanctions on Russia and Belarus.