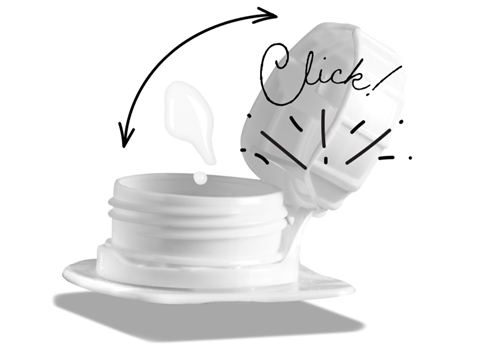 UNITED CAPS has launched its 23 H-PAK tethered closure for carton packaging featuring a tamper-evident band set to keep all parts intact and facilitate easier recycling.
The patent-pending closure is thought to be both highly effective and sustainable, designed for seamless integration with existing processes for fast production-line implementation. It consists of a spout, closure, and cutter, one less piece than other solutions of its kind; as such, it is thought to be easier to recycle.
The closure comes with a first-time use feature with a cutting edge designed to cut through a pre-laminated hole with minimal effort – resulting in a clean and smooth opening, according to the company.
"One of the stand-out features of this new tethered closure is its audible click when opening, a satisfying sound that lets consumers know their closure is in an open position – once opened, it is in the optimal position for use and the cap stays in position for the perfect pour," explained Benoit Henckes, CEO of UNITED CAPS.
Due to its lightweight design, the 23 H-PAK is said to reduce customers' running costs and assist them in reducing their obligations to pay plastic taxes. As such, it is being marketed as a cost-effective solution for carton packaging.
"We are pleased to be bringing to market one of the first tethered closures for carton packaging," said Henckes. "In addition to its ability to keep all parts intact for recycling, its super-strong hinge ensures the box-fresh experience consumers are looking for. It not only enhances the user experience but also helps to protect the environment, a critical R&D driver for UNITED CAPS."
Another project saw UNITED CAPS collaborate with Mimica to produce a cap that doubles as an accessible freshness indicator for perishable products. It was designed in an effort to reduce food waste and improve consumer food safety.
Smurfit Kappa's Vitop Uno tap for bag-in-box applications claims to be the first on the market with attached tamper protection; and Schreiner MediPharm has integrated a new security seal into its Needle-Trap label offering integrated needle protection for syringes.