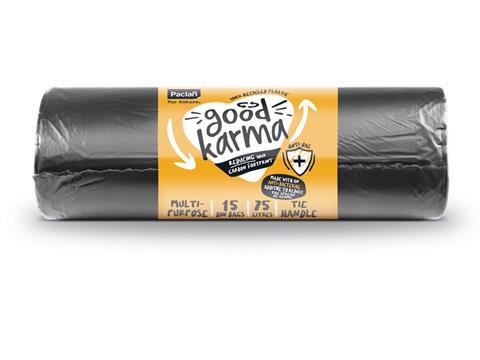 Cedo's Good Karma refuse sacks are reportedly made from 100% recycled plastic with incorporated antimicrobial technology. The sacks are intended for household use and can also be recycled, according to the company.
Martin Burdekin, UK commercial director at Cedo, explains: "We've created our very own Good Karma brand made with 100% recycled plastic, including post-consumer flexible plastic film collected and sorted from households."
The refuse sacks use Bactiglas Antimicrobial technology developed by specialist additive masterbatch manufacturer Wells Plastics, which the company claims killed more than 99% of bacteria – including E. coli and S. aureus – in controlled testing. This contributes to the safe handling of household waste.
According to Carl Birch, sales and marketing director at Wells Plastics: "The Bactiglas active ingredient is a compound that is natural to our environment and toxic to bacteria, whilst being safe for humans.
"Bactiglas is already used in consumer products, medical devices, waste bags and aprons used in hospitals and healthcare settings.
"Bactiglas will provide each bag protection against bacteria which will last throughout its shelf-life."
In 2014, Cedo began manufacturing bin bags using post-consumer flexible plastic film, such as used sandwich wrappers and other soft plastic packaging, collected from households.
The company claims that it currently recycles more than 80,000 tonnes of plastic waste every year via its recycling centre in Holland, allegedly one of the largest flexible film recycling centres in Europe. The Holland site supplies manufacturers in Poland and the UK, where production of refuse sacks and bin liners takes place.
Cedo says that, in the UK, 93% of the plastic used by the company to manufacture non-food products is from recycled sources.
In addition, Cedo is a member of the Ellen MacArthur Foundation's New Plastic Economy, which is aimed at eliminated plastic waste and ensuring that plastic can be safely reused, recycled, or composted. The company became a signatory of the initiative in October 2018.