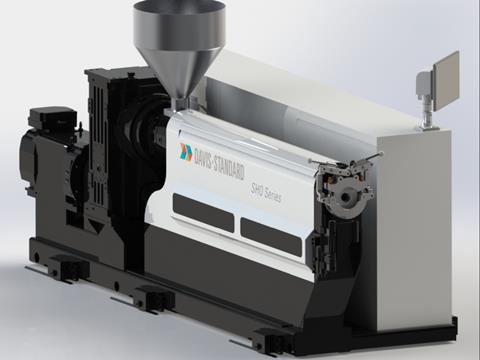 Davis-Standard has expanded its portfolio with two new machines: the CHP, a new compact extruder designed for extrusion coating applications, and the SHO extruder with an innovative groove feed solution.
According to Davis-Standard, the CHP offers a "sleek" design with a smaller footprint and lighter weight, making it easier to add to existing carriage or platform structures. The CHP is available in sizes ranging from 52 to 100 mm.
This apparently means that processors can save space will replacing previous machines, or when adding coextrusion to increase output and line speed. Additionally, the company claims that the machine provides efficient mixing with low pressure and melt temperature variability.
The CHP's output rate is reportedly up to 80 to 100% higher than current extruder options. The company adds that it has a reduced residence time of 3:1, while a faster purge between resins and colours further supports quick changeovers and less raw material loss.
Danis Roy, vice president of sales films and flexible packaging at Davis-Standard, explains: "This design addresses profitability factors such as reduced raw material loss, improved outputs, and greater application development.
"CHP is built for exceptional performance with improved transition times and significantly higher processing rates than conventional extruders."
The CHP can be trialled at David-Standard's laboratory facility in Pawcatuck, Connecticut, USA, allowing customers to validate processing opportunities prior to purchase.
Meanwhile, Davis-Standard's SHO extruder is also designed to save space and is available in sizes ranging from 50 to 150 mm. The company says that the SHO features its next-generation gearcase to enhance production space, alongside a streamlined hopper, low-profile power panel, rugged base, and all components fully enclosed.
The SHO also features an optimised feed section and a DBS barrier screw that the company alleges is high-performing and energy-efficient. This is beneficial for high-viscosity HDPE applications such as pipe extrusion, according to the company, as it can offer lower melt temperatures and reduced power consumption.
Overall, the company says that the SHO is aimed at improving output, output consistency, melt quality, and energy efficiency. The SHO reportedly offers outputs up to 20% higher than existing groove feed models, which David-Standard adds will help its customers to improve bottom lines.
John Christiano, VP of technology at Davis-Standard, comments: "The SHO builds upon our existing groove feed technology with a more streamlined, compact footprint and even greater performance in terms of output and energy savings."
Last year, Davis-Standard introduced the dsX Aseptic 400 triplex extrusion coating and laminating line in response to the increased demand and emerging markets for aseptic packaging technology.