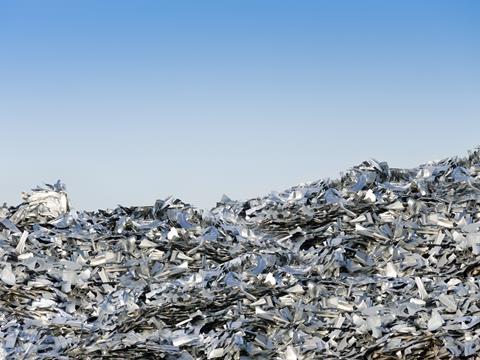 Five grants issued by The Recycling Partnership's Aluminium Recycling Initiative claim to have captured three times more aluminium than originally predicted – apparently capturing an additional 4.1 million new pounds of aluminium annually and avoiding over 18,750 metric tons of greenhouse gas emissions.
Aluminium and similar materials are currently recycled at high rates, the Partnership claims – yet it asserts that there is room for improvement and seeks to upgrade sorting equipment and optimise recycling processes by stimulating investment.
The Can Manufacturers Institute, the Alcoa Foundation, and the Arconic Foundation have supported the Initiative's progress. However, the partnership pushes for more companies and organisations to invest in a circularity-minded future for aluminium packaging.
Curbside Management recently granted funds to the Initiative and drove its investment in a larger eddy current separator, which has apparently enabled the facility to capture 1.3 million new pounds of recycled aluminium every year.
"Through the Aluminum Recycling Initiative grant, we were able to upgrade our aluminum capture process and maximize our annual tonnage," explained Curbside Management's president, Barry Lawson. "Adding a larger eddy current separator was essential in increasing the capture and improving the quality of aluminum from the container line."
Other grantees have provided automated replacements for hand sortation, installed equipment to identify and capture missorted aluminium in the plastic container stream, and other solutions to increase aluminium capture.
Moving forward, the Initiative intends to keep supporting this endeavour and making grant funds available to materials recovery facilities.
"There is a growing need to modernize MRFs to enhance sortation, increase capture rates, and improve bale quality," said Adam Gendell, director of Materials Advancement at The Recycling Partnership. "These grants prove that investment can drive meaningful improvement, but we need continued support to achieve full-scale change."
The REMADE Institute has received a new technology license for a technology that is apparently able to remove metallic impurities from recycled aluminium melts and improve its quality for wider industrial use.
Also, Novelis claims that recycled aluminium constituted an average of 61% of its total inputs in the fiscal year ending 31st March 2023 – reportedly the highest percentage of recycled content in the aluminium flat rolled products industry.
If you liked this article, you might also enjoy:
The Lidl approach to packaging sustainability
How did Brazil achieve its 100% aluminium can recycling rate – and can it be replicated in the EU?
Experts have their say on the EU's Packaging and Packaging Waste Directive revisions
A deep dive into the most important packaging sustainability trends and solutions