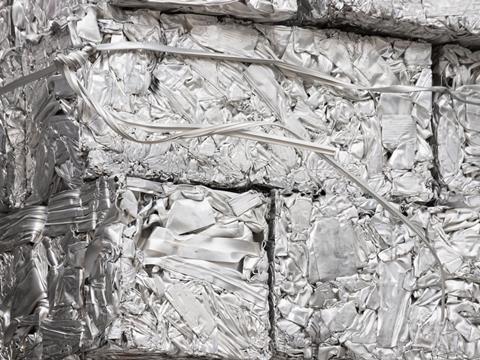 The REMADE Institute has announced that a technology capable of removing metallic impurities from recycled aluminium melts and improving its quality for wider industrial use – developed with the Institute's support – has received a new technology license.
The technology was developed as part of the "Selective Recovery of Elements from Molten Aluminum Alloys" R&D project, led by Subodh Das, Ph.D., CEO of Phinix, LLC. It was first funded by REMADE in 2020 and its tech team oversees the project – aiming to meet the technological milestones of the Institute itself and of the United States Department of Energy (DOE), which partially funds REMADE.
As a patent is still pending, details surrounding the development remain confidential. REMADE emphasises that the IP has been licensed by Phinix to a domestic recycled (secondary) aluminium producer.
By improving the quality of aluminium, REMADE expects that the material will be usable in a wider range of applications, including electric vehicle (EV) manufacturing. In turn, producing recycled aluminium is said to result in lower costs and a 90% reduction in energy compared to the production of virgin aluminium.
With the US Geological Survey estimating that 5.100 million metric tons (MMT) of aluminium was consumed in the US in 2022 – around 2.740 MMT of which was thought to be imported, 0.860 MMT produced from primary ores, and 1.5 MMT produced from scrap – the new technology also hopes to enhance recycling rates and bring the industry closer to its sustainability targets.
"Congratulations to the entire project team, including Phinix's Dr. Das and our tech team at the Institute," said Nabil Nasr, CEO of REMADE. "A new technology license is a tremendous accomplishment.
"We believe this technology will be incredibly valuable to US-based aluminum companies, including those that supply the automotive industry. Ultimately, it's yet another key technology that accelerates the US' transition to a Circular Economy and assists the nation in meeting its net zero by 2050 goal."
"This technology is capable of benefiting aluminum companies significantly," Subodh Das continued. "It's capable of lowering their energy costs, increasing their profits, and increasing the overall value of recycled aluminum considerably."
REMADE's chief technology officer, Magdi Azer, added: "REMADE is selective in funding R&D projects that have the greatest potential to reduce energy consumption, decrease greenhouse gas emissions, decrease the use of raw or primary materials, and increase the use of recycled or secondary materials.
"This particular R&D project is capable of developing technology to increase the quality and usage of recycled aluminum, and as a result, increase the resiliency of the US supply chain and decrease the nation's reliance on imported virgin aluminum from other countries."
The license intends to contribute towards REMADE's overall goal of increasing the reuse, remanufacturing, recycling, and recovery of metals, polymers, fibres, and electronic scrap.
Novelis recently claimed an average of 61% of its total inputs in the fiscal year ending 31st March 2023 was made up of recycled aluminium – leading the company to claim that it has achieved the highest percentage of recycled content in the aluminium flat rolled products industry.
Additionally, Hydro has produced the 'world's first' successful batch of aluminium using carbon-free hydrogen as an energy source; and Plug Power is pursuing the production of industrial-scale green hydrogen in aluminium recycling by installing five-megawatt electrolysers into Hydro's plant.
If you liked this article, you might also enjoy:
The Lidl approach to packaging sustainability
How did Brazil achieve its 100% aluminium can recycling rate – and can it be replicated in the EU?
Experts have their say on the EU's Packaging and Packaging Waste Directive revisions
A deep dive into the most important packaging sustainability trends and solution