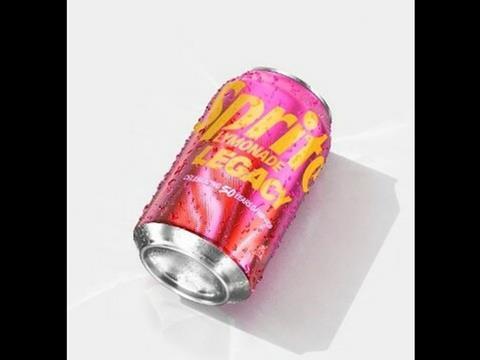 Two very different applications for the ubiquitous QR code have been announced recently.
In the first, Coca-Cola's famous sister brand Sprite will celebrate Hip Hop's 50th anniversary this summer across the USA with a 'buzzworthy' TV spot starring living legends and rising stars; a new limited-edition flavour; sponsorship of one of the year's most anticipated concert tours; a series of exclusive merchandise and experience drops; and QR codes for fans to access digital giveaways, it says.
A.P. Chaney, creative director for Sprite North America, said the brand's longstanding hip-hop credentials are unmatched. "Our resume speaks for itself, Sprite took a chance on hip-hop before it was cool, and has always been of the culture, not only for the culture. We've shown up for both moments big and small, amplifying the endless possibilities of the now-omnipresent hip-hop lifestyle and its profound impact on music, sports and fashion."
Fans can scan on-pack QR codes on Original Sprite and Sprite Lymonade Legacy packaging throughout the summer to access digital "drop shops" with hundreds of giveaways. Prizes include exclusive content featuring Latto and Rakim and covetable merchandise including autographed Nas hats, GloRilla tour tees, a Latto gold mic and Rakim directorial slates from the TVC shoot.
"Our 'Summer of Drops' focuses on our fans' passion points – music, fashion, art and entertainment – and draws inspiration from sneakerhead drop culture," said Aaliyah Shafiq Ely, vice president of the sparkling flavours category. "The diverse array of prizes offers something for everyone to get excited about, and our overall campaign is the latest example of Sprite responding to what fans want with both experiences and products."
Across in South Asia Superplum, a startup based near New Delhi in India, has introduced ecofriendly packaging with zero plastic for their farm-fresh grapes which features a QR code for consumers to learn more about the origin of the product. With millions of plastic packs used for grape consumption in India, this makes a small but significant change to reduce the associated ecological footprint, says the company. It is committed to providing consumers with safe-to-eat grapes that undergo thorough testing for pesticides.
Farm practices and growing methods are carefully analysed before harvesting, and grapes are then tested by labs accredited by the National Accreditation Board for Testing and Calibration Laboratories (NABL) to ensure food safety.
Superplum is promoting transparency with customers by allowing them to access pesticide test reports through scanning the QR code on their packaging. This gives customers information about the origin of their grapes, including the farmer who produced them and even provides the option to reward the farmer with a bonus payment, fostering a sense of connection and appreciation towards the farming community. The company works closely with farmers across the country to ensure product quality right from the source. Their fruits are delivered to over 500 stores in Delhi-NCR and Bengaluru.
This article was created in collaboration with AIPIA (the Active and Intelligent Packaging Industry Association). For a full update on active and intelligent packaging, come along to the AIPIA World Congress (co-organized by Packaging Europe) in Amsterdam on 14-15 November. The only smart packaging event covering the entire technology spectrum, the World Congress is a meeting place for the global active and intelligent packaging industry where brand owners, innovators, and other stakeholders can network and see and discuss the latest trends and innovations. Register to attend here.