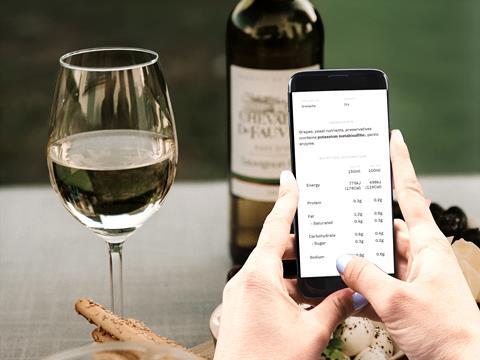 The wine industry is poised for a significant transformation as the European Union's regulatory changes are scheduled to take effect on December 8th 2023. Embracing these changes, Cellr, a connected packaging software company based in Australia, has developed what it describes as a cutting-edge solution that ensures compliance and empowers the wine and spirits industries to thrive globally.
The EU regulations require wines sold in the European market to declare detailed information on ingredients, allergens, nutrition, recycling, and responsible consumption, with translation required into 24 languages. While these regulations may present significant challenges for the wine and spirits industry, they also represent a significant step towards enhancing consumer transparency and facilitating informed decision-making. Cellr's adaptable software solution simplifies compliance and empowers wine brands to embrace these changes positively, it claims.
Cellr's eLabel solution will allow wine brands to create products digitally, enter in the information required, and deliver it via a QR code or URL. Products are built in a format of Product > Model (Vintage) > Variant (Size) and can inherit information to remove the need to duplicate information, making it a more efficient solution.
It offers compliant language translation, ingredient lists, nutritional panels, recyclability and responsible use information amongst other features. Additional information can be delivered outside of the legislative requirements, providing another opportunity to strengthen the connection with consumers in multiple markets.
"Cellr believes that delivering greater consumer transparency is paramount in all industries," stated Daniel Hill, head of marketing and client success at Cellr. "The upcoming regulations present an opportunity for wine brands to strengthen trust with consumers and provide valuable information to help them make more informed choices about the products they purchase."
One of the key advantages of using Cellr for eLabel compliance is its flexibility. Brands can leverage its features without requiring a full Cellr subscription. This allows brands to meet compliance requirements efficiently and cost-effectively. As it was originally developed for the wine and spirits industry, the platform understands the unique requirements of the industry.
"Cellr's commitment to compliance extends beyond the EU regulation changes," added Hill. "Our software solution offers any consumer brand the flexibility to adapt to diverse market requirements while providing brand protection and engaging experiences for consumers worldwide." The Cellr software features including interactive content, competitions, loyalty programs and personalisation, enable wine brands to foster deeper connections with consumers, it believes.
Recently, Cellr successfully delivered five key projects into the Latin American market through its partnership with Avery Dennison as part of the AD Stretch Program.
"As the EU regulation changes draw near, Cellr remains committed to supporting global wine brands in their compliance journey, empowering them to deliver transparent information to consumers while dedicating their time and resources to creating exceptional wines," added Hill.
This article was created in collaboration with AIPIA (the Active and Intelligent Packaging Industry Association). For a full update on active and intelligent packaging, come along to the AIPIA World Congress (co-organized by Packaging Europe) in Amsterdam on 14-15 November. The only smart packaging event covering the entire technology spectrum, the World Congress is a meeting place for the global active and intelligent packaging industry where brand owners, innovators, and other stakeholders can network and see and discuss the latest trends and innovations. Register to attend here.