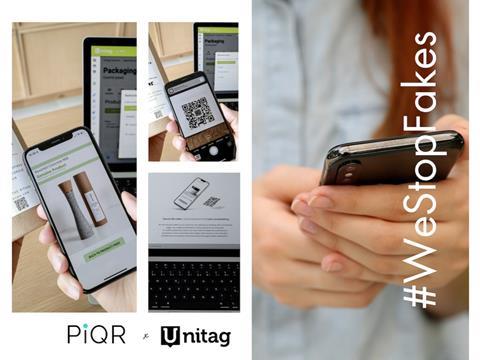 PiQR has entered a strategic partnership with Unitag in an effort to increase brands' confidence in on-pack QR codes by optimising their security, copy-detection, and authentication.
The companies explain that QR technology is a prominent target for counterfeiters, as it is easy to use and has a 'misleading' effect on consumers. Despite this, it is a popular feature of product packaging and marketing as businesses seek to connect the physical and digital realms.
Therefore, the partnership between Unitag and PiQR expects to result in secure and accessible QR solutions that enable brands to make full use of QR codes in their packaging. This is set to include dynamic content delivery, product authentication, loyalty programmes, and real-time consumer engagement.
Enhanced copy-protection from PiQR will apparently authenticate an on-pack QR code's validity and provide further access to such features as detailed product information, promotions, and instructional videos. The collaboration is set to provide brands with the confidence to share digital value with consumers without compromising security or taking on the complexity or costs of conventional anti-counterfeiting or serialisation solutions.
"We are thrilled to team up with PiQR in this exciting venture," says Vincent Biret, managing director of Unitag. "Together, we are poised to transform the packaging industry by leveraging the power of QR codes.
"Our mission is to empower brands to engage with their customers in a more interactive and personalised way, ultimately enhancing customer experiences and driving business growth."
Peter Kostur, managing director at PiQR, added: "Partnership with Unitag is going to leave a mark in the world of anti-counterfeiting. Our vision is no smaller than stopping the abuse of QR codes by counterfeiters and by integrating the copy-protection technology with Unitag's QR code platform, we aim to redefine the accessibility and standards of QR code security.
"We want to democratise the authentication of product for all final consumers and our joint efforts shall empower brands to deliver captivating and value-added experiences to their customers at unprecedented ease of use and costs, while also unlocking valuable data insights."
In two recent developments in QR technology, Sprite is rolling out QR codes for fans to access digital giveaways via "drop shops", while Indian start-up Superplum has is rolling out 'zero-plastic' packaging for their farm-fresh grapes featuring a QR code for consumers to learn more about the product's origin.
Meanwhile, Cellr's eLabel solution will allow wine brands to create products digitally, enter in the information required, and deliver it via a QR code or URL.
If you liked this article, you might also enjoy:
The Lidl approach to packaging sustainability
How did Brazil achieve its 100% aluminium can recycling rate – and can it be replicated in the EU?
Experts have their say on the EU's Packaging and Packaging Waste Directive revisions
A deep dive into the most important packaging sustainability trends and solutions