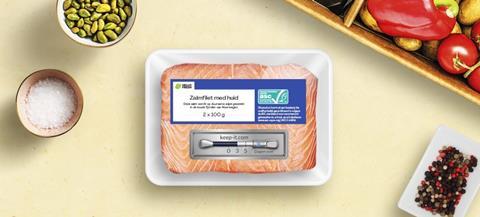 As 'a pioneer in minimising food waste', HelloFresh is continuously searching for ways to further decrease the amount of food being thrown away, it says. While it claims its pre-portioned ingredients substantially reduce household food waste by 38% in comparison to traditionally cooked dinners, a representative survey by the company shows that every second person throws away 20 euros worth of food each month. It has been working with AIPIA [the Active and Intelligent Packaging Industry Association] members Keep-it®, Zebra Technologies and Wageningen University to test and advocate for smarter solutions based on TTI [time-temperature indicators].
The company recently conducted a survey across Germany, UK, Belgium, the Netherlands, and France among over 7,500 people. The main concern of consumers throwing away food past the expiration date is because they are afraid it might make them sick or could be bad for their health. Also, the often misunderstood "Best Before" and "Use By" date stamps are another reason for consumers to dispose of supposedly spoiled food: every fifth person throws away food simply because they follow the date labelling on the packaging - regardless of the quality.
The survey also showed that consumers are quite aware of the contribution they can make: around half of the respondents consider themselves fully responsible to reduce food waste. On average three quarters of the survey participants confirmed that they are more cautious of food waste since the beginning of the cost-of-living crisis and take active steps to reduce it. More than 50% think there is a need to educate consumers more about how to avoid food waste at home.
The survey participants also see the need for actions beyond their own contribution. More than a third say that the current food labelling system doesn't contribute to avoiding food waste. The majority are open to a new food labelling system that helps tackle that problem. On average, 75% of the people surveyed agree that policymakers are at least partly responsible for enabling change.
Today HelloFresh advocates the use of more dynamic food labelling to fight food waste. It believes the innovative alternative solutions such as TTI are key to addressing this change and has been closely collaborating with Keep-it®. In 2020 and 2021, HelloFresh tested Keep-It's TTI solution amongst more than 3,000 HelloFresh customers in the Netherlands and Germany as part of a study, in collaboration with Wageningen University and Thünen Institute.
Time-temperature indicators show the shelf life of products in real-time, taking into account storage or temperature conditions. The study proved the label offers a 15% food waste reduction potential and is perceived positively among consumers.
The company believes in order to enable the use of innovative TTI food labelling solutions there is a need for regulatory change on the EU level. That's why HelloFresh joined forces with other organisations including Keep-it®, Zebra Technologies and Wageningen University to press for more innovation in the food industry.
"The EU is currently working to update date marking, but also each national member state as well as the UK can help by working on pilot projects, such as those already initiated in the Netherlands, to make use of the opportunity to make a change for smarter date coding that helps customers, the planet and companies as well," says Tilman Eichstädt, COO upstream at HelloFresh SE.
Besides this initiative, HelloFresh will continuously work on further minimising food waste for its consumers and across the entire value chain including distributing surplus foods to communities with food security challenges.
This article was created in collaboration with AIPIA (the Active and Intelligent Packaging Industry Association). For a full update on active and intelligent packaging, come along to the AIPIA World Congress (co-organized by Packaging Europe) in Amsterdam on 14-15 November. The only smart packaging event covering the entire technology spectrum, the World Congress is a meeting place for the global active and intelligent packaging industry where brand owners, innovators, and other stakeholders can network and see and discuss the latest trends and innovations. Register to attend here.