Welcome to Packaging Europe's live coverage of interpack 2023! Our team was at the show to bring you the latest updates and developments every day. So, join us as navigate the packaging industry's most important event together.
If you were at interpack and have any thoughts or reflections on what you've seen or heard so far, we'd love to feature you here! Feel free to get in touch with us at: editor@packagingeurope.com
Wednesday 17th of May
Virtual Commissioning with Nicola Iovine at interpack 2023
Nicola Iovine, strategic business developer EMEA, Digital Design and SaaS at Rockwell Automation, showcases the company's Emulate3D platform for virtual commissioning – utilising digital twin technologies to help customers reduce lead times and time to market.
Smart Energy Management with Uwe Kueppers at interpack 2023
Uwe Kueppers – manager at Kalypso, a Rockwell Automation company – outlines the benefits of examining where and how manufacturers buy energy, how and where that energy is used, and the ways in which it can be optimised to manage consumption, costs, and environmental impact.
The Digital Thread with Uwe Kueppers at interpack 2023
"If people do not work on their digital maturity and securing the digital thread, they are lost for their digital transformation." Uwe Kueppers, manager at Kalypso, a Rockwell Automation company, explains how the digital thread can bring an entire value chain together and contribute towards a more sustainable future.
Friday 12th of May
60 Seconds with Wipak
Susan Janssen and Dr. Dorit Nelke-Bruhn talked to us at interpack 2023 about Wipak's mission to reduce its Scope 1 and 2 emissions to zero in 2022 and ran us through the information presented at the company's stand. Read Wipak's 2022 ESG report: https://wipak.com/wp-content/uploads/2023/05/ESG-Report-2022-Wipak-Group.pdf
Wednesday 10th of May
60 Seconds with Wipak
Davide Zinzalini presents Wipak's retortable, recyclable, PP-based pouches at #interpack2023. To find out more about this or other PP-based GreenChoice solutions, please visit: https://wipak.com/greenchoice/recyclable/pp-based-solutions/
Tuesday 9th of May
60 Seconds With Valco Melton
Jeremy Ferreras talks us through the adhesive melting and dispensing solutions displayed at Valco Melton's unit at interpack 2023, including its new electric valve technology and energy-efficient Kube melter.
Monday 8th of May
60 Seconds with Alpek Polyester
Jon McNaull from Alpek Polyester presents the company's line-up of PET Resins and OCTAL DPET® and rDPET® PET Sheet for bottling and packaging applications at interpack 2023 and talks us through its ambition to foster PET circular economies.
60 Seconds With Robatech
Kevin Ahlers tells us how Robatech's booth at interpack 2023 reflects its 'Green Gluing' slogan and GreenSaver campaign for saving resources in the adhesive application process.
60 Seconds with Rockwell Automation
At interpack 2023, Rosa Piazzolla gives us the run-down on Rockwell Automation's range of automated solutions – including its independent cart technology – that help customers work towards flexibility, high productivity, an optimal use of space, and more.
60 Seconds With KP Films
Francisco Quesada introduces the portfolio of packaging solutions that Klöckner Pentaplast is displaying at interpack 2023 – featuring its kp FlexiFlow® EH 145 R , a flexible plastic that claims to be recyclable and save 75% of packaging weight – and extends an invitation to the company's upcoming expert panel about sustainability.
Sunday 7th of May
60 Seconds With Greif
At interpack 2023, Aysu Katun runs us through Greif's Green Tool. Based on ISO standards and LCA models, it aims to facilitate informed and data-driven decisions by comparing the sustainability metrics – including carbon emissions and recycled content – of different packaging designs.
60 seconds with TSC Printronix Auto ID
Thomas Rosenhammer and Nina Babic run us through the label printer portfolio that TSC Printronix Auto ID is displaying at interpack 2023, including the PrintNet Enterprise series and a new print engine available in four- and six-inch widths.
60 Seconds with Heat and Control
Bobby Kane presents Heat and Control's complete solutions at interpack 2023 The new equipment hopes to bring old and new customers one step closer to sustainable business practices.
60 Seconds with Huhtamaki
Jonas Lindh speaks to us from the Huhtamaki blueroom at interpack 2023, where the company is displaying its blueloop solutions – a line-up aiming to provide protective, recyclable, and affordable packaging at scale.
60 Seconds With Squid Ink
Paul Wheeler walks us through Squid Ink's exhibition at interpack 2023, including the JetStream CIJ printer, Gemini co-pilot printer, and Viper thermal inkjet printer. He invites new and existing distributors and customers to learn more about the company's marking and coding technology.
Saturday 6th of May
60 Seconds with Klöckner Pentaplast
Paul Rawlings from Klöckner Pentaplast introduces the company's approach to designing trays for circularity over recycling, including its kp Zapora® and kp Elite® solutions.
Friday 5th of May
60 Seconds with Braskem at interpack 2023
Reporting live from interpack 2023, Braskem's Marco Jansen and Sander Van Veen tell us about the company's sustainable solutions to combat climate change and reduce plastic waste, I'm green biopolymer made from sugarcane and their bioattributed PP based on a mass balance approach and its Upsyde initiative aimed at hard-to-recycle plastic waste.
60 Seconds with Avery Dennison
We checked in with Avery Dennison's Monica Gross, who spoke to us about the importance of innovating materials and processes across the packaging industry today in the pursuit of sustainability for the future.
60 Seconds with Hugo Beck
Timo Kollmann from Hugo Beck runs us through the automated solutions it is showcasing at interpack 2023, including a new, space-saving flexo-paper solution geared towards e-commerce packaging and a form, fill, seal machine set to minimise plastic usage in a range of industries.Show less
60 Seconds with Markem Imaje
Eric Barthélemy runs us through the stand-out features of Markem Imaje's booth at interpack 2023, including a fully-automated production line, packaging intelligence suite, and new inkjet technology for track-and-trace applications.
60 Seconds with Wipak
Live from interpack 2023, Florian Constabel details how Wipak is looking to simplify sustainability with Green Choice – its portfolio making use of renewable materials and recycled content – alongside its involvement in the HolyGrail initiative and more.
Thursday 4th of May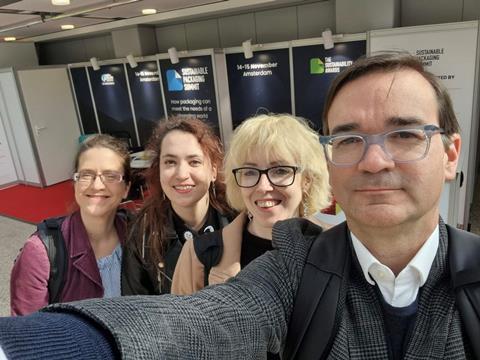 Today is the day we've all been waiting for! We're very much looking forward to exploring and reporting on the key innovations, discussions, and developments from interpack 2023 over the next seven days.
Twelve members of the Packaging Europe team will be present at interpack, including five of our reporters and content specialists.
Those of you who are also traveling to Dusseldorf are likely to come across Packaging Europe staff across the various halls of the Messe. We'll be moderating public panel discussions on various booths and stages throughout the week to discuss the bigger challenges on the packaging agenda. Our crews will also be shooting videos, conducting interviews, and live posting from the fairgrounds.
Packaging Europe will also have a stand (North Entrance level 1, booth 16). We'll use this as a platform to promote and discuss the environmental agenda ahead of the Sustainable Packaging Summit and Sustainability Awards (taking place 13-15 November in Amsterdam). Everyone is welcome to drop by – rest those tired feet and let us know what matters most from your vantage point in the packaging ecosystem.
Here is a list of important resources for attendees, straight from the interpack team:
Wednesday 3rd of May
With just one day to go until the start of the first in-person interpack since 2017, Thomas Dohse, director of interpack, tells us more about what we can expect from the show.
"We are ready", says Dohse. "All our exhibitors and partners are ready to go, and we look forward to providing the industry with another great trade fair. interpack is an important building block in the innovation cycle of the packaging and related process industries."
"After a six-year break, numerous innovations for all user areas will be on display: Food, beverages, confectionery and bakery products, pharmaceuticals, cosmetics, non-food and industrial goods.
"Because requirements and framework conditions are constantly changing, the focus is on digital technologies and sustainable products and processes. We notice very clearly the great determination of the industry to actively shape this transformation process", Dohse concludes.
Statistically-speaking, the top exhibiting nations are Germany, Italy, China, Turkey, India, the Netherlands, the USA, France, Spain, Switzerland and the United Kingdom. The largest areas are occupied by key players such as IMA Industria Macchine, Coesia Group, Syntegon Technology, Marchesini Group, Sollich, Duravant, Aasted ApS, MULTIVAC, OPTIMA packaging group and Ishida Europe Limited. A total of over 2,700 exhibitors are taking part.
Megatrends such as sustainability and digitalisation, numerous economic and ecological, but also political and social changes and challenges, will be key drivers of innovation at this year's interpack.
In terms of sustainability, the focus is on reducing the carbon footprint of packaging throughout the value chain, improving energy efficiency, and the increasing importance of reusable materials.
When it comes to transformation processes, little can be done without digital technologies. Big data, augmented reality and remote machine maintenance have long since found their way into assembly shops and machine fleets. For example, the Fraunhofer Institute for Process Engineering and Packaging will be providing information on digital training systems based on virtual reality in the VDMA Technology Lounge in Hall 4. And technologies such as Holy Grail 2.0, RFID, NFC or augmented reality will also increase in the future.
The fourth hot topic at interpack is product safety, one of the core tasks of packaging. The industry is already making an important contribution to reducing food waste. Digital technologies are key in this regard.
The exhibition programme is complemented by numerous specials such as the Spotlight talks & trends lecture forum with seven theme days, the interpack Start-up Zone, the Co-Packing joint booth, several award ceremonies with exciting packaging innovations, the SAVE FOOD Highlight Route with new approaches in the fight against global food loss and waste, and the promotion of women at Women in Packaging.