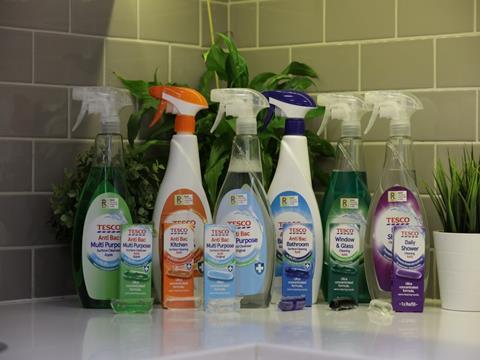 From Monday 22nd November 2021, Tesco own-brand household cleaning sprays will reportedly be available in reusable bottles, which can be topped up using capsules that dissolve in water to make a new cleaning solution.
Six Tesco own-brand cleaning sprays will be included in the range: Anti Bac Multi Purpose Surface Cleanser Original, Anti Bac Multi Purpose Surface Cleanser Apple, Anti Bac Kitchen Surface cleaner, Anti Bac Bathroom Surface cleaner, Daily Shower cleaner, and Window & Glass cleaner.
According to Tesco, over 10 million pieces of plastic, which typically make up the spray and the bottle, could be saved a year if its consumers who already purchase own label products start using the refillable concentrates. A saving of 60 million pieces of plastic could allegedly be made if all Tesco shoppers transitioned to the new concentrated solutions with reusable cleaning spray bottles.
Michael Williment, cleaning product buyer at Tesco, says: "Refillable cleaning products should prove to be popular with our customers.
"Not only are they better for the planet – they are easy to use and cheaper than buying a new spray bottle each time."
Since 2019, Tesco has committed to removing packaging where it can, reducing where it cannot, reusing more, and recycling what is left. Along with introducing reusable cleaning spray bottles, Tesco has also stopped selling beers and ciders held together by plastic rings and shrink wrap, and launched a soft plastic packaging recycling scheme at some of its larger UK stores.
In addition, Tesco recently launched the global reusable packaging platform, Loop, in ten large stores in the east of England. The scheme offers a range of 88 reusable products, including brands such as Persil and Tetley Tea, and Tesco own brand essentials like pasta, rice, and oil, which customers can purchase with a deposit starting at 20p and return to collection points in store.
The new reusable household cleaning sprays will be available in Tesco stores from Monday, with each spray costing 80p and refill capsules priced at 70p.