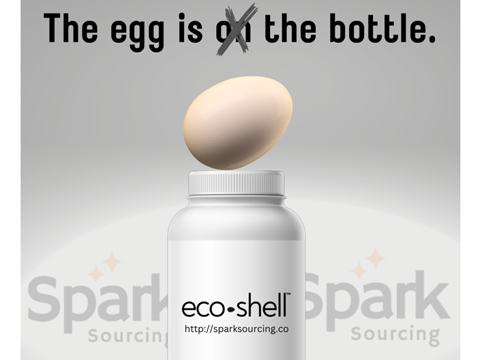 Spark Sourcing has developed eco-shell, a certified recyclable bio-calcium compound derived from eggshells that claims to reduce plastic content by up to 50% in a range of packaging applications.
A patented seven-step process, including a calcination procedure, is used to derive the compound from eggshells. This can then be incorporated into a range of plastic products – including those made from PP, PE, HDPE, PET, EVA, PS, ABS, rubber, PVC, and PLA, as well as recycled, 'ocean-bound', and bio-plastics – to reduce their plastic content.
Reportedly, eco-shell reduces carbon emissions by 70% in comparison to virgin plastics. Furthermore, it claims to offer antibacterial and high FIR emissivity certifications; it has just received EN 13430 certification for recyclability and is already said to have EU RoHS and REACH certifications, alongside SGS eco-certification for plastic, waste, and carbon reduction.
Potential applications for eco-shell apparently include jars and bottles for the cosmetic, pharmaceutical, wellness, and cannabis industries, where it expected to reduce plastic by up to 30%.
Trays and industrial packaging containing 50% eco-shell, bags made from 30% eco-shell and 70% recycled plastic, straws and utensils combining eco-shell and PLA for reduced plastic or biodegradable designs, and industrial buckets, bins, and barriers containing 30% less plastic are amongst the material's other possibilities, according to Spark Sourcing.
eco-shell claims to be a fast and affordable method for companies to meet upcoming plastic reduction mandates and internal sustainability goals. It hopes to keep plastic pollution out of the environment and overcome the roadblocks faced by bioplastics – which, according to Spark Sourcing, are expensive, harder to recycle, difficult for consumers to separate from recyclable plastics, and only biodegradable under specific conditions.
It also expects to serve as a more effective plastic reducer than other options on the market. Compared to a traditional CaCO3 alternative, for example, eco-shell does not require mining to source and claims to have a smaller carbon footprint.
Similarly, mined calcium carbonate has larger particles, and eco-shell offers more facings for greater bonds with polymers – features said to expand its range of compatible plastics.
Spark Sourcing also states that eco-shell is softer than other solutions, so it is less likely to damage machinery during the manufacturing process. It is expected to integrate seamlessly into existing production lines, thus enabling companies to maintain the shape, size, material, design, and shipping dimensions of their products and packaging.
This development comes after the company's GEX bio-calcium – also derived from eggshells – was granted a US patent declaring it environmentally friendly and waste-saving. It also claims to reduce plastic content by up to 50%.
Similarly, the European Bio-Uptake project, co-ordinated by Aitiip Centro Tecnológico and funded by the European Union, plans to oversee the development of bio-based intermediates to manufacture eco-container lids and other products. This is hoped to drive digitalisation and integrate bioplastic composites into the European manufacturing industry.
If you liked this article, you might also enjoy:
The Lidl approach to packaging sustainability
How did Brazil achieve its 100% aluminium can recycling rate – and can it be replicated in the EU?
Experts have their say on the EU's Packaging and Packaging Waste Directive revisions
A deep dive into the most important packaging sustainability trends and solution