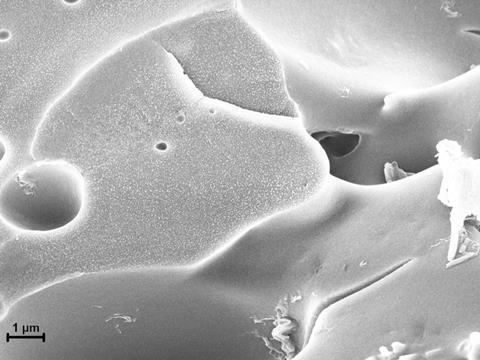 Scientists at the University of Konstanz have claimed to develop a 'self-healing' mineral plastic that can be formed and reformed in water, now enhanced with bio-based building blocks for degradability in the natural environment.
According to its developers, the plastic is energy-efficient, as it can be developed at room temperature in water without the need for toxic solvents. It is also said to be non-flammable and firmer than commonly utilised alternatives.
Before it is hardened, the plastic can apparently be shaped to fit the needs of individual products, with its texture compared to that of chewing gum. It can be restored to this state and reshaped at any time by adding water, which is thought to make it a circular material.
Although a research team led by Konstanz chemist Helmut Cölfen originally developed a similar plastic back in 2016, this initial material was difficult to biodegrade. Therefore, Cölfen and postdoctoral fellow Ilesha Avasthi have headed further research for an alternative basic building block to maintain the mechanical and sustainability-minded features of the previous design while achieving microbiological degradability.
"Previously, we used polyacrylic acid to produce our mineral plastic," Cölfen explains. "Chemically, this acid has the same backbone as polyethylene, which is known to cause major problems in the environment because it is hardly biodegradable.
"Our new mineral plastic has the same positive properties as the previous one, but has the decisive advantage that its basic building block – polyglutamic acid – can be produced with the help of microorganisms and is completely biodegradable."
Polyglutamic acid is a natural biopolymer that is said to be available in large quantities. Various naturally occurring microorganisms can biodegrade the substance, it is reported, and these can be used in biotechnological production processes to produce polyglutamic acid in large quantities – thus replacing petroleum-based ingredients like polyacrylic acid.
The team also worked with Dr. David Schleheck and postdoctoral fellow Harry Lerner from the Department of Biology to test the biodegradability of the whole plastic rather than its individual components. Degradation experiments reportedly proved that microorganisms found in forest soils completely degraded the plastic after 32 days.
"Helmut Cölfen has created a new type of mineral plastic in his laboratory, and our task now was to make it disappear again with the help of microorganisms," commented Schleheck.
Researchers at the University of Washington have also produced bioplastics that claim to break down at the same rate as a banana peel in a home compost bin. It is expected that, in the event that these plastics escape recycling streams, they will not leak microplastics into the environment.
Similarly, biomass cultivated from poplar, elm, birch, and other organic materials has been utilised by the European BeonNAT project to produce bioplastics for bioactive cosmetics, biochar, activated carbon, and pet litter with essential oils.
If you liked this article, you might also enjoy:
The Lidl approach to packaging sustainability
How did Brazil achieve its 100% aluminium can recycling rate – and can it be replicated in the EU?
Experts have their say on the EU's Packaging and Packaging Waste Directive revisions
A deep dive into the most important packaging sustainability trends and solution