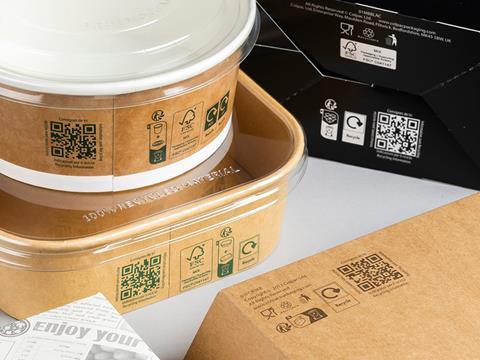 Colpac, a UK food packaging manufacturer and designer, is providing easily accessible recycling and composting guidelines for its paperboard food packaging via on-pack QR codes and product webpages, with the aim of supporting end users in making informed product choices and responsibly disposing of waste.
Recycling and composting guidelines are available in accordance with published legislation for the UK, France, and Italy, it says.
The company says its easily accessible sustainability credentials for paperboard food packaging support end users in making informed product choices and responsible disposal after use. It also informs customers of recycling and composting information, and material sources, so they can align packaging choices with sustainability goals, according to the organisation.
This initiative supports WRAP's Recycle Week 2023, which has the theme of 'missed capture', working to improve recycling rates. The information is available for national recycling schemes in specified countries currently. Guidance is displayed in local languages to inform end users of how to best dispose of packaging.
The QR codes are linked to dynamic webpages on Colpac's new website. The webpages can host more detailed information than can be printed on packs and can be easily updated and added to with legislation from additional countries as it is released. The credentials can also be accessed via each product page on the company's website.
"We are delighted to have implemented a simple way for consumers to access sustainability data for our products. Our QR codes and on-pack printing simply demonstrate how they can do this." Said Kate Berry, head of marketing and product at Colpac
It sells food packaging in over 60 countries, all of which are at different stages of legislating national recycling and composting directives. These differ for each nation, and even in some cases regionally, meaning there is no single recycling or composting instruction for each piece of packaging. This solution provides a central location for accessing sustainability information for each Colpac product.
In another recycling development using smart technologies R-Cycle showcased the first Software-as-a-Service (SaaS) solution for the application of Digital Product Passports (DPPs), which is based on the new GS1 Germany guideline "Circular Plastics Traceability" at Fakuma 2023 the international exhibition for plastics processing held in Friedrichshafen, Germany, recently.
The plastics industry is confronted with steadily increasing industrial and legal information and reporting requirements. Recyclability assessments, plastic tax calculations, EPR regulations or the upcoming EU Packaging Regulation (PPWR) are just a few examples says R-Cycle. In order to provide all necessary information, plastic products must be traceable throughout the entire life cycle. For this purpose, more and more companies are relying on Digital Product Passports (DPP), it claims.
R-Cycle is the open tracing standard for sustainable plastic packaging. By providing a DPP it enables a genuine circular economy and a highly efficient process chain. Value-added partners from around the world benefit from recording and retrieving all relevant packaging properties – to improve their product sustainability, quality and manufacturing process.
This turnkey SaaS solution enables stakeholders in the value chain to store relevant data in an interoperable system to enable efficient, standardized and secure data exchange across company boundaries. All relevant information, such as materials, product properties, process data and much more, can be recorded in the R-Cycle, it says.
This article was created in collaboration with AIPIA (the Active and Intelligent Packaging Industry Association). For a full update on active and intelligent packaging, come along to the AIPIA World Congress (co-organized by Packaging Europe) in Amsterdam on 14-15 November. The only smart packaging event covering the entire technology spectrum, the World Congress is a meeting place for the global active and intelligent packaging industry where brand owners, innovators, and other stakeholders can network and see and discuss the latest trends and innovations. Register to attend here.