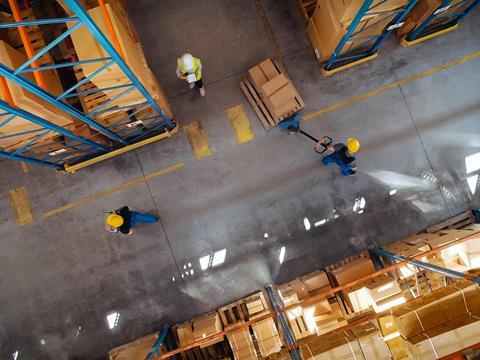 Germany-based Polysecure, an AIPIA member which provides a range of marker technologies for anti-counterfeiting, sorting, and tamper evidence has developed TrackByStars®, a technology with which products can be uniquely identified and tracked, it says.
This enables it to meet the requirements for unique identifier technology, which is mandatory for all Digital Product Passports (DPPs) to correlate a product and its data.
The pattern randomly generated with fluorescent markers within the material is not copyable, easily readable, as well as being practically invisible and even extremely robust against damage, which common technologies such as QR codes or watermarks do not offer, it claims.
Jochen Moesslein, CEO of Polysecure, suggested: "The development together with our customers shows that our material is better and more robust than a superficial two-dimensional code as an integrated code for the reliable identification of products for many applications - such as the digital product passport," showcasing the new technology at the FAKUMA trade fair for plastics processing in Friedrichshafen recently.
TrackByStars, enables permanent, unambiguous identification even for complex and heavily stressed products, so is ideally suited to DPPS, it believes. For batteries, furniture, textiles, packaging and other products the marker creates an individual 'starry sky' in plastics, in colours, or on metals, which can be used for a unique identifier by storing it in a database.
"The charm of our solution is that the particle pattern, or 'starry sky', is absolutely tamper-proof, easily detectable, indestructible and nearly invisible," Moesslein continued. "This distinguishes the technology from printed codes, which do not have these advantages.
"The code is read via a handheld detector. We are currently working on providing a robust solution for industrial environments as well, for example, for moving product streams, or in a waste sorting facility. Once we succeed in this, the application possibilities will be much broader."
The DPP will bundle information - from raw materials used to recycling options, from declarations of conformity to composition - and make it transparent and retrievable throughout the entire life cycle. In addition to product name and producer, characteristics and place of manufacture, information on environmental and social indicators, such as carbon footprint or supply chain compliance, can also be included.
In a world that increasingly craves transparency, this flow of information has a massive impact on all economic activity and purchasing decisions. DPPs contributes decisively to the implementation of the green and digital transformation, Polysecure believes.
As well as TrackByStars the company has developed marker technologies for better sorting of plastics (SORT4CIRCLE®), for mobile authentication of products (BRANDPROOF®) and molecular tracking of materials (POLTAG®).
This article was created in collaboration with AIPIA (the Active and Intelligent Packaging Industry Association). For a full update on active and intelligent packaging, come along to the AIPIA World Congress (co-organized by Packaging Europe) in Amsterdam on 14-15 November. The only smart packaging event covering the entire technology spectrum, the World Congress is a meeting place for the global active and intelligent packaging industry where brand owners, innovators, and other stakeholders can network and see and discuss the latest trends and innovations. Register to attend here.