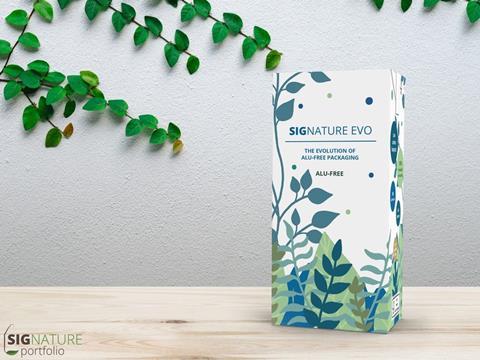 SIG has today announced the launch of SIGNATURE EVO, which it claims is the world's first aluminium-free full barrier packaging materials for aseptic carton packs that is available for a wide range of products, including oxygen-sensitive beverages.
SIGNATURE EVO is the latest edition of the SIGNATURE portfolio of sustainable packaging materials offered for aseptic carton packs. SIG previously released combibloc ECOPLUS in 2010, eliminating the need for an aluminium foil barrier later and cutting its carbon footprint compared to standard packaging material by 27%.
According to SIG, SIGNATURE EVO has barrier properties comparable to standard aseptic cartons that include an aluminium foil barrier layer, apparently ensuring that even oxygen-sensitive products are protected over longer periods of time without the need for refrigeration.
SIGNATURE EVO will initially be launched in the combiblocMini portion-sized format before being extended to other formats. It is suitable for both oxygen-insensitive products like plain white UHT milk and oxygen-sensitive products like fruit juices, nectars, flavoured milk, or plant-based beverages.
SIG says that SIGNATURE EVO is fully recyclable in existing recycling streams. In the future, the company intends to make it available in more options, including as SIGNATURE EVO 100 – a full barrier solution for aseptic carton packs linked to 100% renewable forest-based materials.
Last year, SIG launched combivita, its new family-size aseptic carton pack, in a bid to appeal to busy consumers, while also pledging to begin directly sourcing wind power to fuel its carton production sites in Germany.