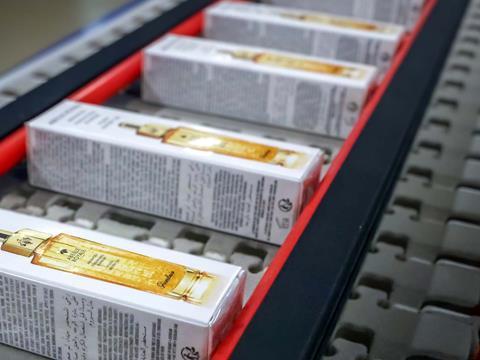 Guerlain, one of France's oldest perfume and cosmetics houses, is using the latest end-of-line and traceability technologies from French machine makers Sidel to fight counterfeiting. Its combi packing/palletizing solution for bottles in cartons is also delivering product care and compactness on Guerlain's new line for advanced skincare, say the companies.
The solution is now in place at Guerlain's main production site near Chartres, France. Guerlain is a subsidiary of luxury goods house LVMH and this facility, known as La Ruche (the beehive) is at the heart of France's 'cosmetics valley.'
The champagne and cognac industries have also selected the technology for its traceability and aggregation capabilities, as has the pharmaceutical industry, which uses even more complex and stringent serialization and track & trace systems with real-time marking, tracking and aggregation, according to the machinery supplier.
"Sidel embedded every aspect of product labelling, control and rejection that we requested and adapted the end-of-line process to suit our traceability needs," says Aurélien Bernier, investment capacity project manager at Guerlain.
The robotic packing and palletising combi solution is designed to function in a compact space of less than 20m² and manages the physical flow of products, cases, and pallets. It handles 60 cartons of skincare products bottles per minute in four formats. Each carton, case and pallet is tagged using bar codes and labels which are read, recorded and aggregated into the Guerlain central database.
This means that Guerlain, at any time, can guarantee the product origin and full characteristics by searching its central database, and can remove any counterfeit products that are not recorded, or identify any product distributed in the wrong marketplace, it claims.
Sidel's end-of-line equipment is asked to generate more than 4,000 information exchanges per pallet to control the full quality process, while at the same time keeping a high level of machine availability and efficiency with error margins of less than 1% per production order, It says.
"We were aware of Sidel's reputation for high levels of traceability and were very impressed by its ability to tailor and finetune the automation to our process needs and traceability requirements," continues Aurélien. "Sidel also had to adapt their machine automation and communication protocols into our IT and central database set-up – we can't permit modifications because the same system is used throughout LVMH Group perfume and cosmetics facilities," he added.
This article was created in collaboration with AIPIA (the Active and Intelligent Packaging Industry Association). For a full update on active and intelligent packaging, come along to the AIPIA World Congress (co-organized by Packaging Europe) in Amsterdam on 14-15 November. The only smart packaging event covering the entire technology spectrum, the World Congress is a meeting place for the global active and intelligent packaging industry where brand owners, innovators, and other stakeholders can network and see and discuss the latest trends and innovations. Register to attend here.