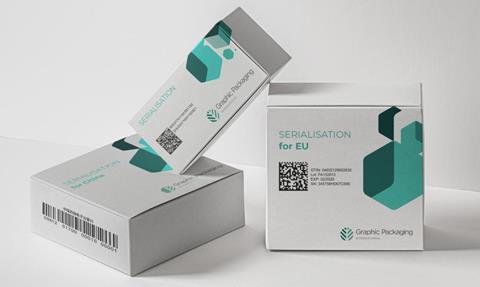 Graphic Packaging, an AIPIA member headquartered in Atlanta, USA, has introduced a serialization service for pharmaceutical packaging which it says is highly flexible – accommodating several different kinds of compliant coding and other applications in country-specific formats. It also meets drug traceability requirements.
With the World Health Organization estimating that one in ten medical products in developing countries is substandard or falsified, the need for an easy-to-implement and comprehensive solution is both desirable and necessary. With counterfeit pharmaceuticals posing a significant threat to patient safety, several authorities around the world have introduced legislation, including the Falsified Medicines Directive (FMD) in the EU and DSCSA in the USA, which is due to be fully implemented by November after a lengthy and often delayed timetable for activation, having been signed into existence in 2011 by President Obama.  
The company's serialization solution has been designed to be highly flexible, and can accommodate longer or more complex coding requirements, including compliant EU codes (according to regulations 2011/62/EU and 2016/161), Chinese C128 codes, QR codes, RFID applications, and country-specific formats, such as Italian Bollini labels, it says.
The service also meets the requirements of the most recent drug traceability specifications. Production processes and capabilities have been designed to ensure the new requirements for coding can be efficiently met. It means that customers can meet many varied coding requirements across multiple markets with a single, highly effective system, Graphic Packaging believes.
Each code is printed at the highest quality, according to the company, to ensure readability standards are met, with a high-contrast, high-resolution code that ensures optimal scanner legibility.  Serialization is integrated into the printing process, with codes able to be printed on open or pre-glued packs. A unique software system prevents duplicates from occurring, which, when combined with exceptional print quality, ensures optimal efficiency and consistency from each print run.
The company says its complete end-to-end pharmaceutical packaging solution is easy to incorporate into an existing process with no additional investment costs, and delivers increased efficiency and flexibility, which can help customers to expand into new markets with different coding regulations.
This article was created in collaboration with AIPIA (the Active and Intelligent Packaging Industry Association). For a full update on active and intelligent packaging, come along to the AIPIA World Congress (co-organized by Packaging Europe) in Amsterdam on 14-15 November. The only smart packaging event covering the entire technology spectrum, the World Congress is a meeting place for the global active and intelligent packaging industry where brand owners, innovators, and other stakeholders can network and see and discuss the latest trends and innovations. Register to attend here.