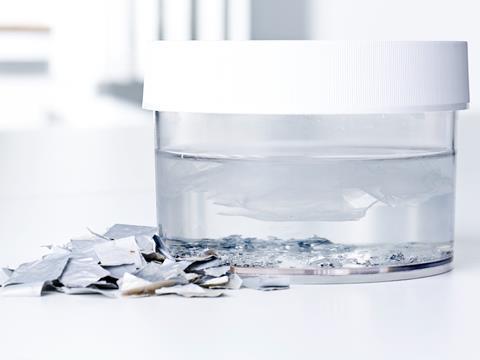 Saperatec is currently building its first recycling plant for composite packaging in Germany, based on its mechanical recycling process for thin-layer composite materials with aluminium barriers.
Saperatec's recycling process currently focuses on composite flexible packaging materials and packaging with aluminium foil barriers, as well as plastics and aluminium from beverage cartons. The company explains that the aim of the process is to maintain the value of each material after separation.
According to Saperatec, the process adds no contaminants to recycled polymers and all chemicals used in the process comply with EU food contact regulations. The hot-wash separation fluids utilised are reportedly water-based and solvent-free, while being reused more than 30 times in the process.
The technology was granted funding by Henkel in 2019, with the collaboration aimed at scaling the process more quickly than average research, development, and commercialisation timelines. The companies claim that the technology could enable future recyclability solutions for a wide range of composite packaging, such as materials combining plastics with metal, glass, and paper.
Saperatec adds that the delamination technology has been extensively tested in both materials science labs and near-industrial pilot environments, with evidence suggesting that the process produces recycled materials that can replace virgin raw materials in applications including film and foil-based packaging.
The company says that these "highly encouraging results" are the impetus for the construction of the multi-layer delamination recycling plant in Dessau, Germany. The facility is set to commence commercial operations in 2023 with the initial goal of processing around 18,000 tonnes of packaging waste per year.
Thorsten Hornung, CEO of Saperatec GmbH, comments: "After years of extensive research and thorough testing, we are thrilled to be constructing our first industrial-scale recycling plant, which will commence operations next year.
"Our goal is to have a true, lasting impact on the circularity of composite packaging materials, which have proven notoriously challenging to separate and repurpose."
Saperatec will be showcasing the multi-layer delamination approach at the K Fair Trade Show in Düsseldorf from the 19th to the 26th of October. The company will be discussing the technology's recyclate results and demonstrating prototypes at Hall 9, Stand D17.