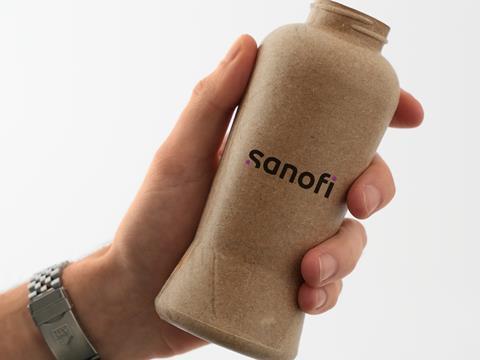 Sanofi and Haleon have joined PA Consulting and PulPac's Bottle Collective in a joint effort to develop cellulose-based bottles and replace virgin plastics sourced from petroleum in consumer health product packaging.
As the Bottle Collective aims to bring a high-speed, low-cost, and recyclable Dry Molded Fiber bottle process to industrial scale, it hopes to contribute towards the creation of branded bottles that can replace single-use and commodity alternatives. Functioning prototypes have reportedly been produced by PA Consulting and PulPac.
"We are proud to welcome Sanofi and Haleon to the Bottle Collective," said Tony Perrotta, PulPac partnership lead at PA Consulting. "We are focused on accelerating progress towards a recyclable alternative to single-use plastic bottles.
"Partnerships with global brands across industries are critical to deliver real impact. Sanofi and Haleon are committed to environmental action and we welcome their vast knowledge to help further our collective mission."
"The Dry Molded Fiber technology is versatile and enables the production of pretty much any rigid, three-dimensional object you can think up, including bottles," continued Sanna Fager, chief commercial officer at PulPac. "We have created the technology to shape, add graphics, deboss, emboss, and choose colors, patterns, and prints to elevate brands.
"But time is running short, and we need committed changemakers like Sanofi and Haleon that take action and lead the way toward the sustainable packaging alternatives that the world and the industry desperately need." 
"We're acutely aware of our responsibility to contribute towards a healthier society and planet, whilst enabling people to take better care of their own health," added France Depaix, global head of Design, Product Sustainability and Packaging Innovation at Consumer Healthcare at Sanofi. "We are taking action to reduce waste and increase recyclability across our business and the wider industry, and a key part of this includes collaborating with partners.
"Initiatives like the Bottle Collective provide a real opportunity to work together across industries and forge unique partnerships which have the potential to accelerate innovations in packaging and help to tackle the global plastic waste issue."
Alex James Orchard, head of R&D Packaging at Haleon, concluded: "We're aiming to create a future for consumer health product packaging which is more sustainable and more inclusive. Joining the Bottle Collective as a founding member is one of several exciting partnerships that we are forging to strengthen our sustainable packaging innovation programme. This includes taking on bold development challenges on alternative materials and technologies that help drive the circular model.
"By partnering and collaborating in new ways, we will enable Haleon and the wider industry to accelerate the adoption of new packaging solutions that are responsibly designed and fit-for-purpose for the next generation."
The Bottle Collective was founded in February this year, with PA Consulting and PulPac aspiring to create a fibre-based alternative for plastic bottles in food, drink, consumer health, and FMCG applications.
Grupo Hinojosa has unveiled a line of recyclable primary packaging for food, beverage, dairy, and fourth- and fifth-range prepared food products with the aim of cutting down on single-use plastics.
Meanwhile, Paboco's paper bottle – featuring a thin plastic lining but aspiring to create a fully bio-based and recyclable bottle solution – was a finalist in the Sustainability Awards 2022.
If you liked this article, you might also enjoy:
McDonald's Director of Sustainability in Europe on the company's approach to packaging sustainability
McKinsey on whether or not on-pack sustainability claims affect consumer spending
Perspectives from industry-leading experts on the EU's Packaging and Packaging Waste Directive revisions
A deep dive into the most important packaging sustainability trends and solutions