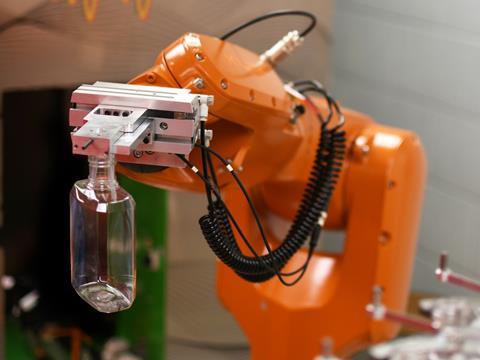 The Gawis 4D from Agr International is now configured with the AF robotic handling system, which the company says can maximise laboratory throughput while achieving high measurement precision for preforms and bottles.
Agr International says that the new system is aimed at maintaining quality control efforts through regular testing and measurement of samples while also accommodating increased speeds, reduced weight, and the growing emphasis on recycled content in bottle production processes.
The Gawis 4D is designed to automate quality checks by consolidating numerous dimensional and thickness measurement operations on bottles or preforms into a single, hands-free operation that can apparently be completed in seconds. The company claims this eliminates the need for such checks to be performed by hand.
In addition, the robot handling system enables the Gawis 4D to perform measurements on complete sets of bottles. This means it can be operated on a continuous basis without intervention, which maximises testing throughput while freeing laboratory personnel for other tasks, the company says.
Another key feature of the Gawis 4D, according to the company, is a precision pick and place industrial robot that manages sample selection and placement of samples into the system.
Agr International says that samples are hosted in a multi-level carousel with rotating tiers fitted with spring-activated sample grips designed to position samples for robot access and allow fast loading by an operator. The tiers can be configured to accommodate bottles from single or multiple mould rounds, or a complete mould set of preforms.
When the tests on individual samples are complete, Agr International adds that the robot can either discard the samples or return them to the sample carousel for further analysis.
According to Agr International, the interface between the robotic handling and measurement systems is "seamless", and customers have the option of purchasing the Gawis 4D with the new system or retrofitting it to existing systems operating in the field.
Operation is fully integrated, Agr International adds. It says that all controls and operations – including job setup, robot management, and sample coordination, as well as activation and control of individual test sequences – are handled through the Gawis 4D user interface.
Agr International notes that its AutoJob feature – for which it is awaiting a patent – simplifies job setup and reduces the time it takes by providing automated recognition of finish measurements.
The robotic handling system also offers a range of thickness measurement options, including thickness at single or multiple discrete points on the sidewall or heel of the bottle. The company says that it can perform complete vertical or horizontal scans for analysing preform ovality and material distribution.
In 2019, Agr International introduced Pilot Vision+, a new in-the-blowmoulder vision inspection system that is intended to meet the quality management requirements for high-speed PET bottle production. The first generation of its Gawis 4D laboratory test system was unveiled by the company in the same year, aimed at providing measurements for PET, PE and PP containers.